CiCLE Classic announces three-year sponsorship deal with Mountivation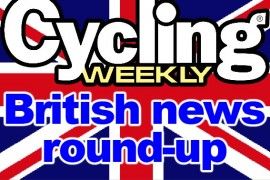 >>>We want to hear what's happening in your area - from racing results to sportives, recreational cycling to commuting. To submit your stories for CW's British news round-up, please email Nick Bull or Richard Abraham>>>
Professional development firm Mountivation have signed a three-year deal to sponsor the Rutland-Melton CiCLE Classic for the next three years.
The Preston-based company have already set up a Cycling Development Academy in this country, although the sponsorship deal is their first foray into providing backing for top-level races.
CiCLE Classic director Colin Clews praised the new deal, saying: "The three year nature of the agreed partnership also provides stability for the race which it has failed to gain previously in its short eight year history."
This year's race - to be held on St. George's Day (April 29) this year - will again start in Oakham before taking in a gruelling 105-mile route on and off road to Melton. For more information visit www.cicleclassic.co.uk (external link).
Riders tackle the notorious Somerby Forest during last year's race
The South-West based Primal Europe team launched in style in Plymouth on Sunday, as Tom Stockdale - the youngest member of the squad - took a specially-equipped bike for a quick spin around Batten Bay.
Having won 25 times in 2011, the clothing manufacturer's European Sales Director Judith Smith said: "We were so proud of the team in 2011, not only did they win lots of races but inspired the development of a totally new cycling club."
Fancy a ride? (Picture credit: Jaimie Warburton)
Primal Europe 2012 line-up: James Williams (Team Manager), James Smith, Martin Smith, Adam Bright, Wayne Coombs, Robert Willcocks, Phil Borrett, Tom Stockdale, Peter Haworth, Richard Oram
Twenty3c-Orbea have signed ODP rider Alice Barnes for 2012.
Alice, the younger sister of National Circuit Race champion Hannah, will represent the team on the road, as well as in 'cross and mountain bike events.
Team manager Ceri Dipple said: "As a member of the British Cycling MTB Olympic Development Programme we know that Alice has a bright future ahead of her will be doing extremely well in the coming months."
Jamie Pine extended his lead in the Imperial Winter Series at Hillingdon on Saturday as he won for the third consecutive round. Pine has recorded eight top ten finishes - including six wins - in the eight races so far. The London Dynamo rider beat Tom Smith (Felt-Colbornes RT) and winner of last week's SEERL Winter Series race winner Benjamin Moores (Norwood Paragon) to the line.
>>>We want to hear what's happening in your area - from racing results to sportives, recreational cycling to commuting. To submit your stories for CW's British news round-up, please email Nick Bull or Richard Abraham>>>
>>To catch up on previous weeks' round-ups see the British news round-up index page>>>