Colorado Trail Race 2023: 527 high-altitude miles, a high drop-out rate, a rookie winner and a new course record
An original of the bikepacking world, this Colorado Rockies race is not for the faint of heart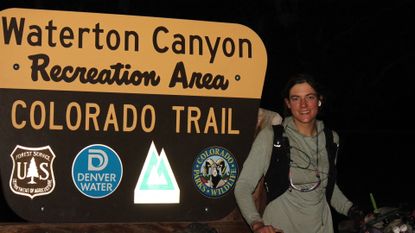 (Image credit: Katya Rakhmatulina)
Get The Leadout Newsletter
The latest race content, interviews, features, reviews and expert buying guides, direct to your inbox!
Thank you for signing up to The Pick. You will receive a verification email shortly.
There was a problem. Please refresh the page and try again.
The Colorado Trail is a beast of an undertaking. Running between Durango and Denver, the Rocky Mountain trail is more than 520 miles long with 70,000′ of elevation gain, plenty of hike-a-bike and at an elevation ranging between 5500′ (1676m) and a very thin-aired 13,200′ (4,023m). It's certainly not for the faint of heart and racing it is even harder. The annual (CTR) has an average finish rate of around 25%, meaning three-quarters of the entrants drop out along the way.
The race is a favorite among FKT seekers, and like many of the other adventure races, there is no entry fee, no support, no registration and no prize money. It's a self-timed race against the clock offering only bragging rights and one hell of an adventure.
| Also read: What is this FKT phenomenon and why attempt one?
The 2023 Colorado Trail Race is ongoing, with some riders still out on trail, but three victors have been crowned already: Miron Golfman in the men's category, Katya Rakhmatulina in women's field and Lilly Frances Hacker in the non-binary category. While the three approached the race from different angles, all three agreed that they gave it their best and they're happy to rest their legs – even for just a minute.
Miron Gofman, 4 days, 16 hours, 51 minutes
Based out of Anchorage Alaska, Miron Golfman, 30, gave the race his all. He rolled through the finish line in Denver on the night of August 17, stopping the clock with a time of 4 days, 16 hours and 51 minutes. Taking the overall win had, because of a few stomach issues, surprised even him.
From the very beginning of the race, Golfman was having a hard time keeping down solid foods and by the eighth hour had to change his game plan. He rested a bit, got a motel room in Silverton the first night, and after that, was forced into a fully liquid diet, save for a single, solid meal at Copper Mountain.
"At that point I thought the race would be over," Golfman recalls. But after an already disappointing scratch from the '23 Tour Divide because of health issues, Golfman decided that he needed to keep going and finish regardless.
"For me, not finishing was not an option," he said.
Golfman just tried to take it as easy as he could from there on, and continued riding at a methodical pace. Soon enough he started passing people until he found himself hunting Jason Kiefer who was, at the time and before a crash, in the lead.
After Kiefer's crash and his subsequent slowing down, Golfman took over the lead and sustained his first place finish until the end, thereby completing his first CTR.
"The honest truth is that these races are wild and they take so much out of you and they are definitely an emotional roller coaster. When they go well it's really special. When it all comes together it feels amazing, and then when they don't go well it's really tough," said Golfmann, who also tackled the Tour Divide and Iditarod Trail Invitational earlier this season.
He's now setting out to race Vermont's Super 8 at the end of September before he heads on to race the AZT to attempt the Triple Crown.
"It's either fun or some sort of self-hatred, I'm not sure," he said with a laugh.
Katya Rakhmatulina, 5 days, 1 hours, 53 minutes — a new record!
Katya Rakhmatulina would mimic a similar sentiment in the indecisive nature of whether she was having fun or suffering more, but however the scale lands, she still won this year's CTR women's race by a landslide, and even set a new women's course record (FKT).
The Oakland, California resident rolled into Denver around 5 a.m. Friday morning, marking her time at 5 days, 1 hour and 53 minutes — putting her a full day ahead of the previous women's record of 6 days, 1 hour, and 34 minutes set four years ago by Alexander Houchin. While the record gap was decently large, the race was still close. Rakhmatulina and Lael Wilcox bunny-hopped each other for most of the race until Wilcox reportedly started having breathing issues towards the end, at which point Rakhmatulina pulled an all-nighter and pushed ahead.
"I went about 230 miles pretty much not sleeping, so more than a day, and the last 50 miles was in the dark." From a spectator's view, this was probably her winning move, but as she looked back over the race, she recalls not sleeping the last night as being her only somewhat poor decision.
The rest of the race, she said, circumstantially, went very well. She didn't have any mechanicals – like she did on the Tour Divide, where she placed second in women's – the weather kept nice, and her 'c'est la vie' attitude kept her spirits high.
"I don't usually have a plan. My goal is, whatever happens happens. And oftentimes it's good and if it's bad then that's fine as long as your plan is to do your best," she said.
She was happy to be off the trail, however, and says the best part of racing is the day she finishes and the day after because she gets to hang out with her friends, exchange war stories and eat McDonalds; which is exactly what she was craving, and exactly what her friends brought for her at the end.
Lilly Frances Hacker, 5 days, 23 hours, 7 minutes
Lilly Frances Hacker (they/she) of Grand Canyon, Arizona, was the first-ever, and only categorized non-binary racer at this year's race, and finished first in their category at 5 days, 23 hours, and 7 minutes. Their goal was to finish in six to eight days, but also wanted to finish it under six to beat the women's record. Out of the 12 women and non-binary racers, six of them beat the record. "It felt really inspiring to be a part of that," Hacker said.
It was noted by them, and by many other racers and spectators of the strong presence of pink and purple dots this year, and not many people could ignore their incredible performances.
"It felt really good to be a part of this big movement in the women and queer folk performance in this year's CTR," they said.
Not only did Hakcet put the first purple dot on the Colorado Trail Race's map, but they kept their race strong, even climbing past race director, Jefe Branham, a few times on the first day, and had a lot of fun experiencing a sport that they love.
"I've had a curiosity about bikepacking for a while," they said and in May did their first bikepacking race, Pinions and Pines, but the race got understandably cut short because of rain.
"There was a part of me that felt like I still had something that I wanted to accomplish, and I wanted to accomplish the bikepacking experience," they said.
They had toured the CT last year from Denver to Durango and really wanted to ride it going the other direction, but they didn't have anyone to go with so, "I might as well go with 70 other riders," Lilly concluded.
Besides dying electronics at the end and swelling in their legs on the last day, Lilly felt good and had a smooth race, avoiding stormy weather and doing well in the heat. They're now happily doing what most of the other '23 CTR finishers are doing; resting, eating a lot of good food, and enjoying the recap of another great year on the CTR.
Thank you for reading 20 articles this month* Join now for unlimited access
Enjoy your first month for just £1 / $1 / €1
*Read 5 free articles per month without a subscription
Join now for unlimited access
Try first month for just £1 / $1 / €1
Get The Leadout Newsletter
The latest race content, interviews, features, reviews and expert buying guides, direct to your inbox!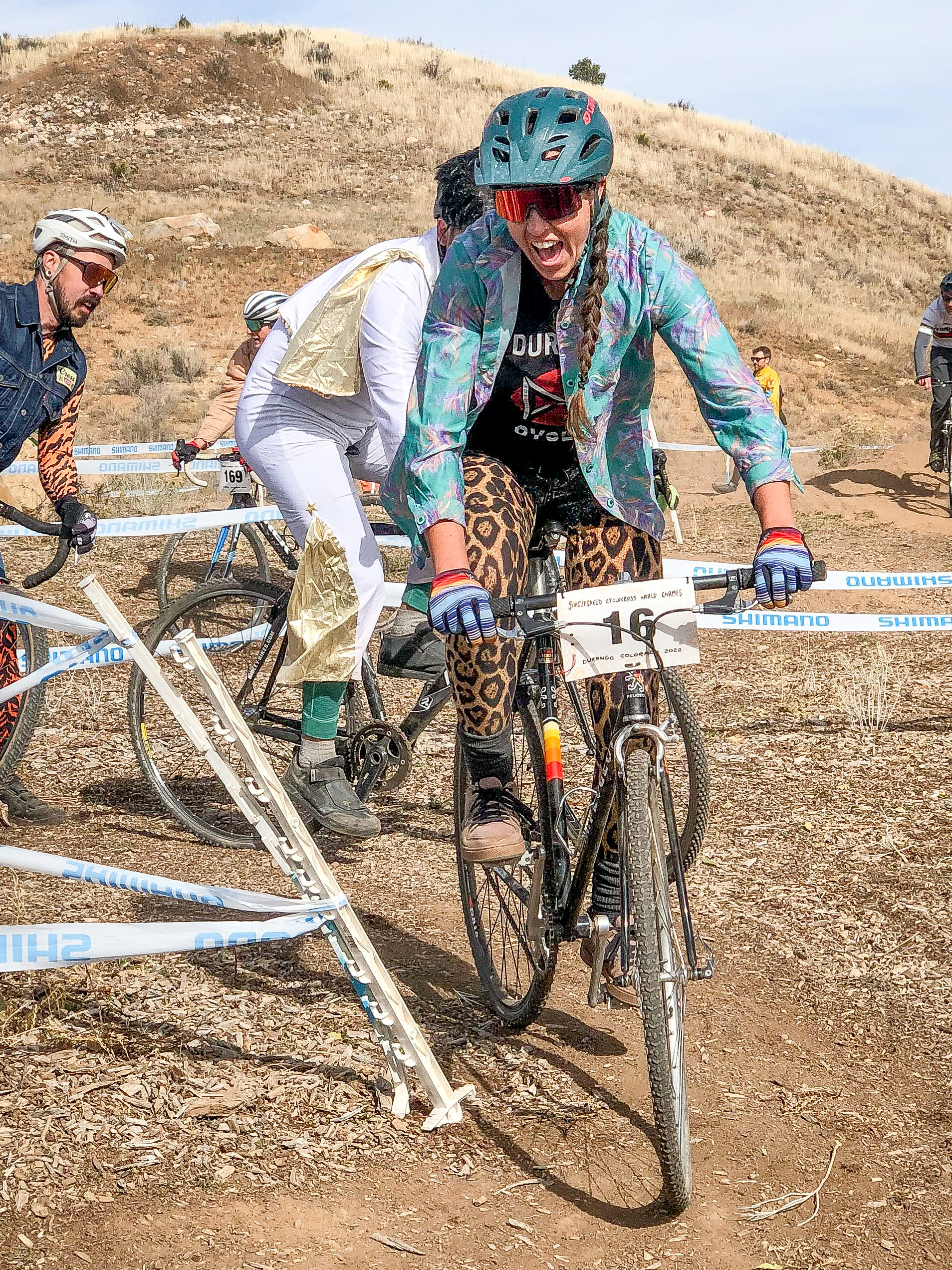 Jennaye Derge lives in Durango, Colorado. She is a writer, photographer, and author of How to Cry on Your Bicycle. She spends her time advocating for bicycles through her organization Bike Durango, and helps folks share their stories and love for bicycles in her sporadically published zine, Ride Your Bike!
When she isn't writing, advocating, or riding her bike around town, she is most likely mountain biking with her friends, skiing groomers or drinking coffee, reading a book, and snuggled up next to her dog, Calvin.