Dr Hutch: The error of going running instead of cycling
Dr Hutch swaps saddle for trainers, and pounds the pavement to remind himself why he loathes running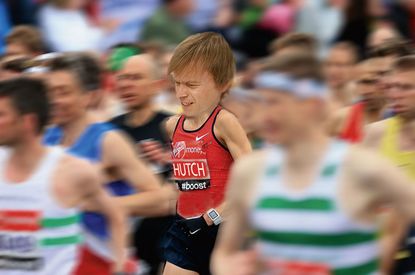 Get The Leadout Newsletter
The latest race content, interviews, features, reviews and expert buying guides, direct to your inbox!
Thank you for signing up to The Pick. You will receive a verification email shortly.
There was a problem. Please refresh the page and try again.
I've got a place in the Virgin Money London Marathon next April. I did the race once before, in the mid-1990s, when I was in my 20s and the event was sponsored by NutraSweet, both of which circumstances seem rather old-fashioned and quaint now.
The horror has only just faded enough for me to contemplate repeating it — my most vivid memory from that run is from 800m before the finish, where a spectator shouted, "Nearly there!" I almost wept at the eternity of another four minutes.
But running has some good points. You can get dressed for a winter run in about a quarter of the time it takes to get ready for a winter ride. You can also… um… well, actually that's about all there is to be honest. But let's not underestimate the value of that.
I once calculated that I had spent six years of my life looking through my kit drawer for the correct overshoes.
>>> Dr Hutch: Get what you wanted for Christmas? Of course not, you're a cyclist
No such difficulties with running. But there are other problems. Here is one. I was running a couple of weeks ago, through a village near home, when behind me I suddenly heard a terrifying sound.
"Bloody hell," said a familiar voice. "It's the opposite of Paula Radcliffe, in every possible way."
The power and the (real) story
It was, inevitably, my friend Bernard, on a bike. He slowed down to my pace and started to sing the Chariots of Fire theme. I knew he was doing this to provide some hold-music while he thought of further commentary to make my run pass a bit more painfully.
Eventually he settled for, "Mate, you look terrible when you do that. You run like a bloke who was trying to catch a bus in his Wellingtons, and forgot to stop running when it drove off without him."
He is right about this. I have the heart and lungs of an athlete, but when it comes to running I have the legs of a mastodon. It would be an exaggeration to say that when I run through a village paving slabs crack under my feet and plaster falls off walls as I pass, but it would not be as far from the truth as I would like.
"Just so you know," continued Bernard, consulting his computer. "You're doing eight and a half miles per hour. So it's going to take you three hours to do one hour's training." He laughed immoderately — for the first time in our friendship he was the one with speed to burn and the breath to issue insults, and I was the one who was too stuffed to speak. He had me trapped. If running away was going to work, it would have been working already.
>>> Dr Hutch: Don't bother buying lots of winter cycling kit, you'll never find it again
In fact it got worse. He edged ahead a little — the half-wheeling manoeuvre he'd never been able to pull on me before — and just like he does when I half-wheel him, I started picking up the pace to hang on. I accelerated to fully 10mph, at which point I was breathing through my ears and seeing visions of the Virgin Mary. Bernard trundled along, turning the occasional languid crank and unwrapping a flapjack.
"Don't worry," he said with his mouth full, "there's a downhill bit coming up and you'll be able to freewheel and get your breath back, and maybe return to your normal colour. Oh, no, wait, hang on, you won't. You'd need a bicycle for that, like this lovely machine I borrowed from a friend before he went mental."
I've only got to keep doing this until April. I know that by spring I will appreciate the bicycle as never before. I also know that Bernard is in for a summer of pure hell.
Thank you for reading 20 articles this month* Join now for unlimited access
Enjoy your first month for just £1 / $1 / €1
*Read 5 free articles per month without a subscription
Join now for unlimited access
Try first month for just £1 / $1 / €1
Get The Leadout Newsletter
The latest race content, interviews, features, reviews and expert buying guides, direct to your inbox!
Michael Hutchinson is a writer, journalist and former professional cyclist. As a rider he won multiple national titles in both Britain and Ireland and competed at the World Championships and the Commonwealth Games. He was a three-time Brompton folding-bike World Champion, and once hit 73 mph riding down a hill in Wales. His Dr Hutch columns appears in every issue of Cycling Weekly magazine