Erik Zabel resigns from UCI's Professional Cycling Council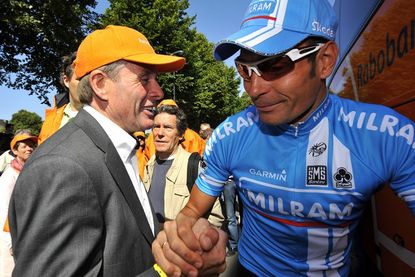 Erik Zabel has resigned from his position as a member of the Union Cycliste Internationale (UCI) Professional Cycling Council in the wake of the admission that he took performance-enhancing drugs for much of his cycling career.
Zabel told German newspaper Süddeutsche Zeitung that he took EPO, cortisone and underwent blood transfusions from 1996 to 2003. His admission came after he was one of several riders whose urine samples from the 1998 Tour de France tested positive for EPO.
The UCI issued a short statement on Monday afternoon: "The International Cycling Union has announced that the former sprint cyclist Erik Zabel has resigned from the Professional Cycling Council.
"He contacted the UCI President earlier today to offer his resignation and to further express his 'deep regret for having lied for so long about taking performance enhancing substances'. Erik Zabel said that cycling is now in a cleaner era, however he is no longer the right person to be a part of the Professional Cycling Council."
According to the UCI, the Professional Cycling Council is 'responsible for the management of road cycling at the highest level' and represents the 'interests of riders, trade teams and race organisers'. Zabel was appointed to the council after being nominated by the UCI themselves.
Zabel won the Tour de France points classification for six consecutive years, from 1996 to 2001. He won 12 stages of the Tour de France, eight stages of the Vuleta a Espana and the Milan-San Remo classic on four occasions, among his extensive list of victories. He currently works as a consultant for the Katusha team, and worked with Mark Cavendish and the Highroad squad as sprint advisor from 2009 to 2011.
Zabel has also resigned from his position as the Vattenfall Cyclassics sports director.
Related links
Zabel doped throughout professional career
Pantani and Ullrich's 1998 Tour de France samples positive for EPO
May 2007: Zabel and Aldag confess to doping
Thank you for reading 5 articles this month* Join now for unlimited access
Enjoy your first month for just £1 / $1 / €1
*Read 5 free articles per month without a subscription
Join now for unlimited access
Try first month for just £1 / $1 / €1