Fleeman defends national hill-climb title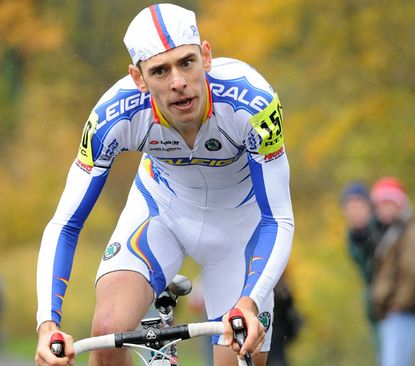 British National Hill Climb Championships 2010 photo gallery by Andy Jones>>
Daniel Fleeman (Raleigh UCI team) won his second consecutive National Hill Climb in Weston-sub-Edge, Cotswolds, on Sunday, taking the title by just six seconds from last year's runner-up and 2008 winner Matt Clinton (Mike Vaughan cycles). In third place was Corley cycles' Michael Smith who just edged Tejvan Pettinger off the podium by a single a second.
The early pace was set by Richard Cartland from Corley cycles off at 11.15 who posted a respectable 4-19.8 on the 1,487.2 yard Dover's Hill course and this stood for 20 minutes before Carl Helliwell from Blackburn and District CTC came in with a 4-16.4.
Twenty five minutes later Danny Axford from the Arctic CC reduced this mark by seven seconds posting a 4-09.3 and his time would see off all comers until the favourites started to hit the tarmac.
First of the big guns to topple Axford was Matt Pilkington from Dulwich Paragon who recorded a 4-06.7, but his lead would last only 10 minutes before Michael Smith - many people's tip for the win - crossed the line with the first sub four-minute ride, a very impressive 3-55.4.
Smith's time looked very solid as it withstood the onslaught from first Mike Cuming, then David Clarke, Robert Gough, and Tejvan Pettinger, it wasn't until last year's second-placed rider Clinton came up with a 3-47 what he would be pushed off the top spot.
The crowd of damp but vocal spectators were now all waiting for last man Fleeman, could he beat Clinton? The answer was yes, but only just, he all but stalled as he crossed the line, utterly empty to take the title again with a time of 3-41.1.
In an equally compelling women's event, the 2010 title was taken by the multi-talented former Hill Climb and BBAR champ Lynn Hamel of Team NCA in a time of 5.04.0. In second place was Chrissy Radon (Team Zappi's) with a time of 5-14.7 and rounding off the podium was Michelle King, Cult Racing with 5-18.1.
The Junior title was claimed by 17 year old Chris Bains from Buxton CC in a very impressive 4-25.4, which placed him 32nd overall and the team prize was taken by over a minute by the Raleigh trio of Fleeman, Mike Cuming and Richard Handley.
Results

National Hill-Climb Championships 2010: Weston-sub-Edge

1. Daniel Fleeman (Raleigh) in 3-41.1
2. Matt Clinton (MikeVaughan.co.uk) 3-47.7
3. Michael Smith (Team Corley) 3-55.3
4. Tejvan Pettinger (SRI Chinmoy Cycling Team) 3-56.4
5. Mike Cuming (Raleigh) 3-57.9
6. Robert Gough (Arctic-Premier Racing Team) 3-59.6
7. David Clarke (Pendragon / Le Colgano) 4-01.3
8. Peter Tadros (In Gear Quickvit Trainsharp) 4-01.3
9. Thomas Clark (VC Bristol) 4-02.0
10. Charles Taylor (South Pennine RC) 4-02.1
Mike Cuming, fifth, winds his way up Dover's Hill
Tejvan Pettinger


Junior winner Chris Baines
Women's winner, Lynn Hamel
Mike Cuming, fifth
Tejvan Pettinger, fourth
Michael Smith, third
Matt Clinton, second
Overall winner, Daniel Fleeman
Dan Fleeman celebrates with a doughnut
Dover's Hill is number 13 in Simon Warren's 100 Greatest Cycling Climbs book, currently available in the Cycling Weekly shop.
Related links
British National Hill Climb Champs 2010 photo gallery
National hill-climb champs 2009: Fleeman wins
Thank you for reading 20 articles this month* Join now for unlimited access
Enjoy your first month for just £1 / $1 / €1
*Read 5 free articles per month without a subscription
Join now for unlimited access
Try first month for just £1 / $1 / €1