GB team named for London Paralympics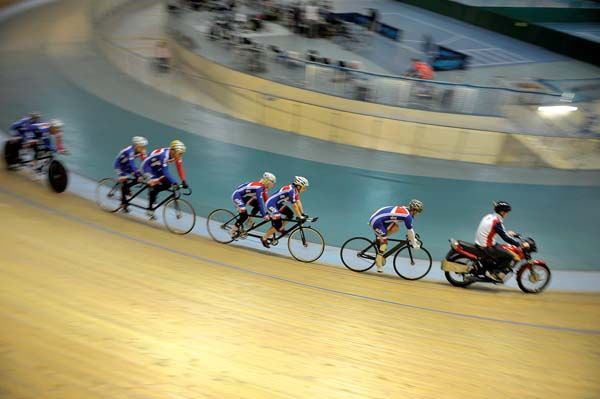 Multiple Paralympic champions Sarah Storey, Darren Kenny and Jody Cundy will spearhead Great Britain's 18-rider team for the London Paralympics that was announced today.
Following on from the success of the Beijing Paralympics four years ago - when GB topped the medal table - the cycling squad will be bigger than ever.
Eight of those - Storey, Kenny, Cundy, David Stone, Anthony Kappes, Baney Storey, Aileen McGlynn and Rachel Morris - won gold in 2008, while six of the team will make their Paralympic debuts in London.
Among those are C5 kilo world champion Jon-Allan Butterworth, C1 pursuit world champion Mark Colborne and Londoner Shaun McKeown.
Paralympic debutante Jon-Allan Butterworth
The team's Performance Manager Gareth Sheppard said: "We're taking our largest ever team to the London Games and are looking forward to defending the many titles won in Beijing.
"It'll be tough trying to equal 17 gold medals and our athletes realise the expectation on their shoulders. Having the whole of the country behind them will really help us and we are confident of delivering some world class performances."
The Paralympic cycling events begin on the track at the London Velodrome on August 31, before the road races get underway at Brands Hatch in Kent on September 5.
Great British Paracycling team for 2012 Paralmypics

MEN
Jon-Allan Butterworth
Mark Colborne
Jody Cundy
Neil Fachie (w/tandem pilot Barney Storey)
Anthony Kappes (w/tandem pilot Craig Maclean)
Darren Kenny
Shaun McKeown
David Stone
Rik Waddon
WOMEN
Karen Darke
Aileen McGlynn (w/tandem pilot Helen Scott)
Rachel Morris
Sarah Storey
Lora Turnham (w/tandem pilot Fiona Duncan)