GCN+ streaming service and app axed
The streaming service and app will close as a result of parent company restructuring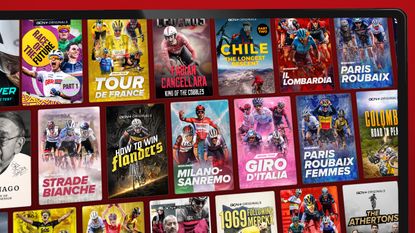 (Image credit: GCN+)
The GCN+ streaming service and app are set to close due to the brand's parent company, Warner Bros. Discovery (WBD), reducing its number of streaming services.
A message to subscribers on Wednesday morning, accompanied by a YouTube video, said that the service would shut down from 19 December.
"This follows Warner Bros. Discovery's broader strategy to consolidate its streaming services to provide customers with all the sports they love in one place, alongside the widest range of entertainment content, seeking to provide extended value to subscribers and everyone in their household," the message read.
"Obviously, this is hugely disappointing as we are very proud of what we have built with GCN+, a single destination for all your cycling racing and documentaries."
The website and YouTube channels will continue to run.
European fans will need to return to watching racing on Eurosport, which includes ads, and there's no direct plan in place for viewers across the rest of the world, many of whom used the GCN+ as their primary race viewing platform.
"The reason for its closure is not because it didn't work or it was underperforming. It's that the media industry landscape has changed," Simon Richardson, head of road cycling at GCN, said in the YouTube video that accompanied the announcement. Along with presenter Dan Lloyd, he apologised, and the pair said that they were really proud of everything they had achieved.
On GCN+, subscribers could watch live road, mountain bike, and cyclo-cross races from around the world, live and uninterrupted by adverts. There were also over 200 documentary films, on topics from cycling in Africa to the curse of the rainbow jersey.
Subscribers to GCN+ in Europe will have the option to subscribe to discovery+ or Eurosport in order to continue to watch live cycling; pro-rata refunds will be given to those who are currently subscribed to GCN+.
A spokesman for WBD added: "In markets outside of Europe, WBD will keep customers fully informed about any future availability of the live content."
"This decision also means that we are refocusing Play Sports Network and its long-standing core brands, centred around the global cycling community and millions of fans served every day across GCN and its website, and leverage Warner Bros. Discovery's scaled streaming products or partnerships for live content," the email from GCN said.
Discovery bought into Play Sports Group, the company that has owned the GCN operation since its inception on YouTube, in 2017 and increased its shareholding in 2019.
In 2021 it took a 100% stake in the company in a deal that reportedly valued it at £70m.
However, in the 2022 accounts for DNi Europe Holdings, Discovery's parent company for Play Sports and other investments, published last month, it wrote down the investment by £66m. There were reports in September that GCN was for sale.
There is an explainer on the GCN website on what this means for customers.
Thank you for reading 20 articles this month* Join now for unlimited access
Enjoy your first month for just £1 / $1 / €1
*Read 5 free articles per month without a subscription
Join now for unlimited access
Try first month for just £1 / $1 / €1