Government announces £62 million cycling investment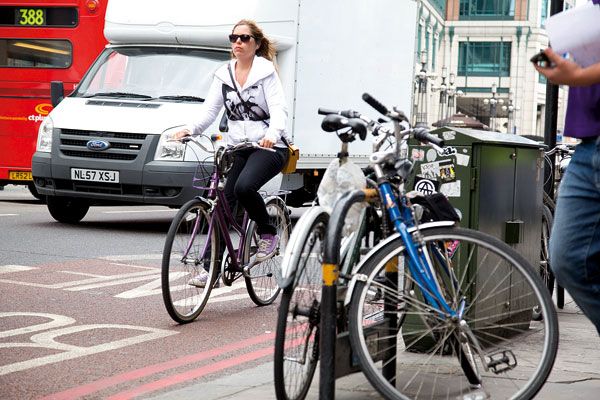 Transport Minister Norman Baker has today announced a £62 million pound investment from the Government to make cycling in England a more attractive transport option.
Up to three cities will be invited to bid for a fund of up to £30 million for improving cycling conditions in urban areas.
The Community Linking Places fund has also been given a £15 million boost to support cycle-rail integration and community cycling.
Another £12 million is being made available for cycling schemes in National Parks, while £5 million will be added to a fund already earmarked to tackle dangerous junctions.
In a statement issued by the Department for Transport, Baker said:
"We are serious about cycling, as this latest wave of funding shows. We have already seen how schemes can quickly deliver economic and environmental benefits, as well as improving public health.
"Our ambition is to get people cycling more safely and more often and today's announcements will help us to make that vision a reality."
According to the statement, facilities at Brighton, Redhill, Upminster, Nottingham and Leicester stations are all set to benefit from the funding.
The news comes as the second evidence session of the 'Get Britain Cycling' parliamentary inquiry takes place in Westminster today.
British Cycling have issued a statement saying that they welcome the package but that "it doesn't go far enough if we want to get Britain cycling at the levels seen in countries like Holland and Denmark."
British Cycling's Director for Policy and Legal Affairs, Martin Gibbs, said:
"We welcome this development and it's a credit to Norman Baker that he is securing this increased funding for cycling infrastructure - but what we need is long term, sustained investment and a strategy to put cycling at the heart of transport policy.
"The total funding package works out at less than £1 pound per head of the population. The Dutch spend £25 pounds per head per year and have been doing so for decades. Cycling is now part of their culture with 43% of people in Amsterdam cycling to work. We need to match that level of funding to get Britain cycling."
Speaking to Cycling Weekly, CTC's Campaigns and Policy Director Roger Geffen said that the charity also welcomed the announcement and were particularly pleased that money had been specifically earmarked for cycling - something the Government was ruling out only a year ago.
"The Government does need to think about ramping up funding, though," he added. "They also need to be more consistent. Only with a steady and dependable stream of cycling funding, will local authorities be able to develop expertise needed to move cycling forward."
Related links
What is 'Get Britain Cycling'?
Cycling experts present evidence to Parliament
The Times campaign: one year on
How Britain has failed cycling
Comment: Cycling takes centre stage at Westminster