Greipel gripes about "crazy" Feillu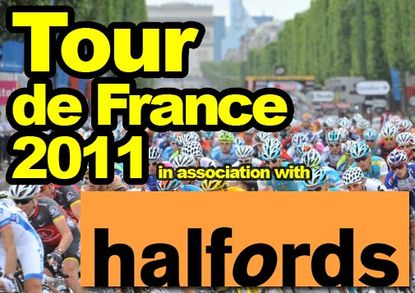 Vacansoleil-DCM sprinter Romain Feillu again drew the ire of another sprint rival in today's Tour de France finish into Lavaur.
On roads slick from a deluge, the Frenchman moved from wheel to wheel in the finale, clipping Mark Cavendish and forcing him to put his shoe on again.
While his movements appeared to have little impact on the sprint result, second-placed Andre Greipel (Omega Pharma-Lotto) complained about Feillu's actions to journalists outside the team bus.
"Romain Feillu was going a bit crazy, and always went on Roelandts's wheel, where my spot is," he said.
"He doesn't care what happens behind him," Greipel said. "I just said on television that he needs to choose a wheel, but he chooses [a new] one every 50 metres. It's pretty dangerous when somebody in the bunch is going crazy to find the right spot."
Is it down to Feillu's technique? "I don't think it is. It's just, I don't know, the way he learned to sprint, it needs to be safe for all the bunch."
Greipel had no complaints about being beaten by Cavendish, reversing the score on yesterday's stage.
"Yesterday was great; today we tried again, and actually it was pretty dangerous today. I was a bit scared but the team did a great job, they tried to give me a good position."
Cavendish weighs in

Mark Cavendish called Feillu "kamikaze" after being affected in his sprint on the third stage, but he was at pains to stress he had no qualms about today's incident tin his post-race press conference.
"There was nothing intentional, there was nothing dangerous," the new green jersey wearer said. "It just so happened that it was his [Feillu's] wheel that it happened on. There was nothing wrong with it," he said.
Cavendish explained the incident: "With 600 metres to go, there were ten of us so close together. My shoe banged into his front wheel and it got the ratchet on my shoe undone, and the buckle actually came out - so my foot technically came out of the shoe."
"So I had to reach down, slide the ratchet of the shoe inside - with 600 metres to go. I was lucky there were no swerves in the peloton," he said.
Feillu went on to finish sixth. He has been France's best sprinter by far in this year's race, finishing second on stage three into Redon and fourth twice.
Related linksCavendish into green after winning in LavaurTour de France 2011: Cycling Weekly's coverage index
Tour de France 2011: Related links
Tour de France 2011: Cycling Weekly's coverage index
Thank you for reading 20 articles this month* Join now for unlimited access
Enjoy your first month for just £1 / $1 / €1
*Read 5 free articles per month without a subscription
Join now for unlimited access
Try first month for just £1 / $1 / €1