Highroad to the top: Tony Martin on his best year
The latest in our regular feature franchise, German time triallist par excellence Tony Martin talks us through his best season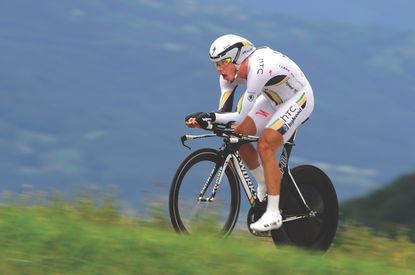 (Image credit: Getty Images)
It was only mid-February, but already Tejay van Garderen just knew something special was building. "It was the last stage of the Volta ao Algarve and there was a 17km time trial," the American remembers.
"It was a tricky course, but I was even with Tony throughout the whole TT until we got to the hardest section, and in those few kilometres alone he put 30 seconds into me and the rest.
>>> Subscribe to Cycling Weekly magazine for more great interviews
"On a section that demoralised people, where they succumbed to the pain and pressure - that's where Tony was at his best. It was just his power; he had this ability to go faster than anyone else when it was harder."

Five days around southern Portugal against opposition still finding their race legs might not appear hugely significant, but it was, for it was the arrival of Tony Martin at his devastating best, the German thriving in what was the final year of the successful and much-followed HTC-High Road team.
"There was something special about the winning culture and winning attitude that we had, and Tony was in his absolute prime," Van Garderen continues. "Just to watch what he could do was infectious."
Twenty-five turning 26 at the time, Martin went on to record what he describes as his breakthrough season, topping the general classification in three stage races, most notably Paris-Nice, and winning nine time trials, including the first of four world titles against the clock.
A flirt with a tilt at the Tour de France fell by the wayside, but it didn't taint the season; instead, it helped form clear goals for the rest of his career. "There was an expectation on me to win some bigger things, and in 2011 I did that with some conviction," he says.
"I said before the season started that I wanted to be world champion and I wanted to win stage races. I'd already had some victories and successes, but this was the first year where I arrived at the top level and knew I could stay there for a long time."
Read the full feature in the May 12 issue of Cycling Weekly magazine. You can buy Cycling Weekly online and get free delivery, while the digital version is available via Apple Newsstand and Readly. If you want to save on the cover price and get it delivered each week you can subscribe here.
Thank you for reading 20 articles this month* Join now for unlimited access
Enjoy your first month for just £1 / $1 / €1
*Read 5 free articles per month without a subscription
Join now for unlimited access
Try first month for just £1 / $1 / €1