How to... get through the 24 hour Time Trial Championships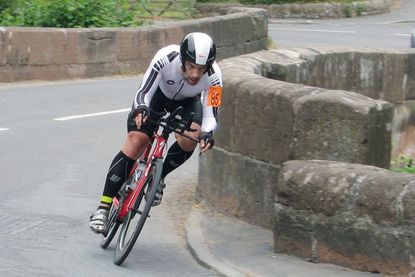 Get The Leadout Newsletter
The latest race content, interviews, features, reviews and expert buying guides, direct to your inbox!
Thank you for signing up to The Pick. You will receive a verification email shortly.
There was a problem. Please refresh the page and try again.
If you were driving near Chester in the early hours of Sunday July 21 and you saw a Gruffalo sitting in a deckchair, followed by Spiderman handing out water bottles, then set your mind at ease; you weren't imagining things.
"The Gruffalo was me," says Mark Brooking. "Spiderman did it because he wanted to cheer up his mate; in the middle of the night when you're a bit low something like that makes you smile."
Brooking wasn't just out for the fun of it; he was part of the Willesden Cycling Club support crew for Arabella Maude and Jane Swain in the National 24-hour Time Trial Championship, hosted by Mersey Roads Cycling Club.
The duo, nicknamed 'the Pinkies' for their kit, were in fact the first women ever to attempt the event on a tandem trike, setting a distance of 349.6 miles, while their clubmate Stuart Birnie rode his way to the men's title and a distance of 518 miles.
It may seem a peculiar thing to do with your weekend, but the National 24 is the sort of event where a man dressed as a comic book superhero can make a big difference.
When you're riding solidly for 24 hours, in Birnie's case at an average of over 21.5mph, you need all the help you can get.
"The early morning is the toughest bit," says Birnie, who at that point was locked in a duel with second place Ultan Coyle."
I felt I just couldn't keep pushing. It was just grim, and you know you've still got eight hours to go."
Ultimate endurance
Costumes and hats aside, riding the National 24 is a serious undertaking. Not only is the challenge physical - record holder Andy Wilkinson had to be lifted from his bike and placed in the recovery position when he rode 541 miles in East Sussex in 2011 - but the mental demands of concentrating, eating, drinking and racing for that length of time are not for the faint-hearted.
"In the latter stages it became a battle between quitting and carrying on," says Birnie, who took his first national title on his third attempt at a 24. "I had a thought that if I threw my bike into the bushes then my team would come and pick me up. I really wanted to quit."
The gruelling endurance needed to complete the event begs the obvious question: why?
"What convinced me to do it was the fact that people said it couldn't be done," says Jane Swain, demonstrating that a competitive instinct is almost a pre-requisite for a 24 attempt. "They said a woman wouldn't have enough arm strength to handle a [tandem] trike for 24 hours, and that was like a red rag to a bull for me."
With only one or two events per year, riding the 24 is a special experience, and at the end of it you are left with a special number - a distance - to treasure as a memento of your hard work.
"The 24 is a once a year effort," says Jon Wilkinson, organiser of the Mersey Roads event which has been run by the club for over 70 years, and existed for many years before that. "You've made that commitment to enter because it's the only chance you've got."
"The camaraderie is brilliant," says Swain. "No-one passes without some encouragement."
"And the 24 costs something like £20 to enter," adds Birnie. "It's got to be the best bargain race; per hour of racing it's the cheapest race in England!"
24-hour teamwork
The real secret to a successful 24 attempt, even though the riders take the records and the glory, is a dedicated support team, willing to put themselves through the same sleepless weekend as the riders. But whether it's riding the event or passing up water bottles and chammy cream ("just the one top up this time," says Birnie), there is something about a 24 that keeps everyone coming back for more.
"I knew as soon as I'd finished [my first 24] that I'd do it again, because I knew I could improve," Birnie adds. "I know where I could have gone faster this year."
"Next year I'll probably do it again," says Swain. "The plan is hopefully to ride the mixed tandem trike. And then I might see what I can do on a bike!"
Fuelling for a 24
The key to riding well in a 24 is eating and drinking. Few will dispute the need for volume, but there is more than one school of thought when it comes to what to eat.
"I went through a whole stack of gels, a pile of bars, a lot of energy drink, some coffee, some Pepsi and some caffeinated energy drink that tasted horrible," says Stuart Birnie. "I don't eat normal food."
"That's a load of old rubbish that," insists Mark Brooking. "Proper food will do! Stuart knows exactly what his engine runs on but we were looking at two middle-aged mums; their diet was a bit more traditional."
Brooking even brought a kettle and camping stove with him to hand the tandem trike pair freshly cooked pasta in paper cups.
"I think Jane [Swain] might have had a couple of silver foil energy things in her pocket for emergencies," he adds. "She had one and it just went all over her fingers and she didn't really bother after that."
"I basically run on junk," says Swain. "Jelly babies, pot noodles, custard and rice pudding."
This article was first published in the August 15 issue of Cycling Weekly. Read Cycling Weekly magazine on the day of release where ever you are in the world International digital edition, UK digital edition. And if you like us, rate us!
Thank you for reading 20 articles this month* Join now for unlimited access
Enjoy your first month for just £1 / $1 / €1
*Read 5 free articles per month without a subscription
Join now for unlimited access
Try first month for just £1 / $1 / €1
Get The Leadout Newsletter
The latest race content, interviews, features, reviews and expert buying guides, direct to your inbox!
Richard Abraham is an award-winning writer, based in New Zealand. He has reported from major sporting events including the Tour de France and Olympic Games, and is also a part-time travel guide who has delivered luxury cycle tours and events across Europe. In 2019 he was awarded Writer of the Year at the PPA Awards.