'I have been in some real dark places in cycle races': World Superbikes racer Scott Redding says he'll never get to the same level of fatigue on the motorcycle
We talk to the 2019 British Superbike Champion about swapping horse power for pedal power, as he sets his sights upon the British National (bicycle) racing scene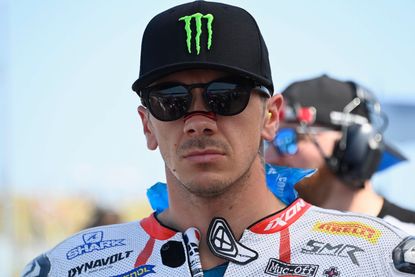 (Image credit: Getty)
Sharing more than just the obvious two wheeled and aerodynamic approaches, motorcycle racing and cycling are cut from a similar cloth. Whilst the power units - and their origin - are very different, these days motorcycle racers are dedicated athletes, and one glimpse at World Superbike contender Scott Redding is enough to confirm that.
Redding's attention remains on racing the championships (aboard a bike with a top speed of 200 mph) for his BMW Motorrad WorldSBK team, but the 29-year-old - who made history aged 15 by being the youngest ever motorcycle Grand Prix winner - is also testing his mettle in the British Cycling National road and crit series, with the elite development team of his own founding: SRCT Muc Off Cycling Team.
"I started cycling when I was about fifteen or sixteen just for fitness, primarily to keep my body weight down. I have always enjoyed it. Then I got into racing last year," explained Redding who, at 6ft, is considered 'tall' for a motorcycle rider and therefore needs to keep a check on his weight in order to be competitive.
Though, he is finding that bike racing - where his goal is to "get to Elite level here in the UK" - comes with slightly different demands.
"Racing motorcycles you could almost eat what you want, do a few sports during the week and if you have a good bike you could still do well on a Sunday. That is just not the case with cycling as it is much more of an athletic sport, your body is your engine and that helps me stay dialled in with things like my nutrition," he said, adding: "I have been in some real dark places in cycle races and I am just never going to get to that level of fatigue on the motorcycle."
For those that might not share the same level of fascination of motorcycle racing as myself, the man Gloucestershire made a name for himself by taking the top step at the British 125cc GP in Donnington Park, aged 15. After four seasons in the premier class, Redding hopped home to compete in the British Superbike Championship (BSB), winning at his first attempt.
Perhaps, one of the keys to Redding's success, lies in the time he spends on a less powerful bicycle. Whilst a lot of riders walk a lap of the track on the Thursday before the race weekend starts, in that time, Redding can complete six or seven on his bike.
"Cycling allowed me to replicate and see more in the short time that was allocated. I could almost forget about the track layout as such and just concentrate on other areas over the weekend," he explains.
A large proportion of the British circuits are notoriously tight and a technical challenge; Redding used his bike as a tool to learn the track layouts and to get a better understanding for the way they flowed with great success.
Time on the bike also helps him prepare physically, "before that in MotoGP, I did ride my bike a bit on the track but it was more to spin my legs after travelling," he said.
Redding has had a successful time over the past couple of seasons in the World Superbike Championship (WSBK), finishing 2nd and 3rd in the championship in the past two seasons. But somehow, in 2022, he's found time to start his own cycling team - the dual focus "just requires a lot of hours," the very-busy-man confirms.
"Last season I did three [British Cycling ranked] National B races, this season we competed at the Tour series and now we are racing the National Crit series alongside a few of the National Road series events. I know it's beyond my current level but it's the only way I can learn that fast," he says.
"I knew starting a new project that it could suffer. Thankfully having Muc Off on board as a title sponsor helped secure riders for the season by showing that I am serious," he added, of the team which is a fresh new presence on the national race circuit.
The team has started out as an Elite development squad, and Redding is keen to bring on younger riders despite still learning the ropes himself.
Though still gaining cycling experience, he pushed US National Champion Justin Williams hard to finish in a close second place earlier this season racing in California. A born racer, Redding's competitive nature is obviously just as commanding on a bicycle as it is on a motorbike.
"If I don't win then I at least want to improve," he says, adding "when things aren't going your way, this pressure to do well and me wanting to win means it is sometimes not that enjoyable."
I can see that, despite his competitive streak and being eager to improve after every race, cycling is just his hobby. There isn't the same level of pressure and that is something that Scott really enjoys about racing his bicycle helping him to relax in a way, focus on something else away from the track whilst maintaining his fitness for his 'day job'.
Redding has spent all of his adult life racing motorcycles and with it has grown a degree of muscle memory and strength. His experience allows him to be able to dig deep when he has to, he knows when he is going into the red whilst muscling a 250bhp racing motorcycle on the limit, he can sustain that level of performance. So for now he is almost solely dedicating his training time to cycling.
Indoor training, which has rapidly grown in popularity in recent years, is not on his agenda though, unless it's very bad weather or intervals require complete concentration. "I'm not a fan of riding indoors mate, I have to be honest," he says, adding: "I do sometimes but I really hate indoors!"
SRCT Muc Off is a young team that has had a difficult start to the 2022 season with their riders being caught out with both crashes and mechanical niggles hampering the results. As each rider on the team builds on their experience and finds their way the improvements keep coming. The final round of the Sportsbreak.com Tour Series in Manchester SRCT Muc Off earned a breakthrough, the hard work beginning to pay off with a 7th place.
Redding's ambitions include progressing the team towards Continental level races. "I know it's a big step and it's one that scares me a little bit, but you have to step up and go for it. I just want to be sure that we can secure the backing and the funding to make the project run at the level I want, so that we are competitive and deliver at the races," he said.
SRCT Muc Off team isn't only about the elite - it also incorporates a cycling club with regular rides heading out on the road.
"I want to bring more people into cycling. Our club rides are nothing super hard. I just like to see people enjoying their time on the bike. If you have a road bike come and join in, everyone is welcome," Redding outlined.
Thank you for reading 20 articles this month* Join now for unlimited access
Enjoy your first month for just £1 / $1 / €1
*Read 5 free articles per month without a subscription
Join now for unlimited access
Try first month for just £1 / $1 / €1