Ian Bibby wins inaugural indoor IG London Nocturne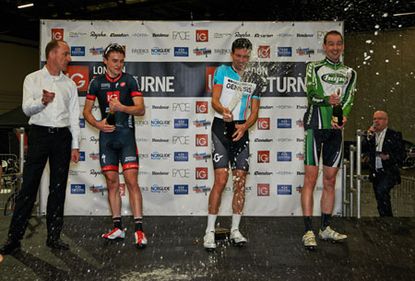 Ian Bibby gave the new Madison-Genesis team a perfect start to the 2013 season with a win in the inaugural indoor IG London Nocturne criterium at the London Bike Show on Saturday evening.
Just a few hours after the team was officially presented to the world, Bibby launched an early attack in the opening laps of the race to give the squad its first victory.
Pete Hawkins (IG-Sigma Sport) placed second with Paul Oldham (Team Hope Factory Racing) in third.
"It's a new team, we wanted to start with a bang, so we were really up for this. It went well," said Bibby after the race.
"I thought it was quite a tight circuit, I thought hit it hard early on, and even if you don't get away you're going to split it into a small group and you can control it.
"I went hard for the first two laps, I got a gap after two laps and thought I'd try and keep it. I was regretting it after 10 minutes in."
The racing took place on a completely indoor 500-metre circuit in one of the large halls at the ExCeL exhibition centre in London.
Madison-Genesis is managed by former professional and British road and cyclo-cross national champion Roger Hammond, who finished his pro career with Garmin-Cervelo at the end of 2011.
"It's brilliant working with Roger, he's one of the reasons I signed, I'm really keen to work with him and he's really up for it," said Bibby. Bibby and the team will now head to Majorca to take part in the Challenge Majorca. The squad is also aiming for the Tour Series and hopeful of a ride in the Tour of Britain.
Clémence Copie won the women's elite criterium on Friday night ahead of Alice Barnes (23C Orbea) in second and Louise Mahe (Team MuleBarGirl) in third.
In addition to the elite races there were also events for the industry, media, penny farthings, folding bikes and track bikes. All run safely indoors away from the ice and snow.
The 'regular' IG London Nocturne will take place at Smithfield Market on June 8.
Related links
IG London Nocturne ready for action
Roger Hammond to manage new Madison-Genesis team
Madison-Genesis announce 2013 roster
Ian Bibby: Rider Profile
Thank you for reading 5 articles this month* Join now for unlimited access
Enjoy your first month for just £1 / $1 / €1
*Read 5 free articles per month without a subscription
Join now for unlimited access
Try first month for just £1 / $1 / €1