'I've won three pigs… They've been made into sausages' - Tro-Bro Léon and cycling's oddest prize
Laurent Pichon is gearing up for his 12th Tro-Bro Léon, and hopes to hold a pig on the top step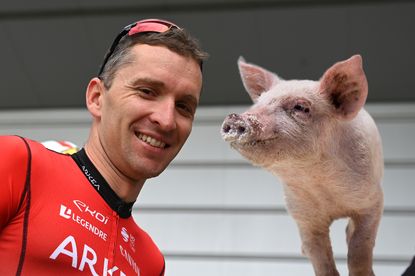 (Image credit: Getty Images / Unsplash)
Not once, not twice, but three times has Laurent Pichon stood on the podium at Tro-Bro Léon, cradling a live piglet.
Though the Frenchman has never won the race, he's finished three times in the top 10, on each occasion earning himself the accolade of the highest-placed Breton rider. It's a title that brings one of pro cycling's most bizarre prizes: A bright-eyed pig, reared at a local farm.
Born in Finistère, in France's far-flung north west, Pichon will start his home race for the 12th time this Sunday. It's a day out, he explains, that holds a special place in his heart.
"It's something out of the ordinary," the Arkéa-Samsic rider tells Cycling Weekly. "I used to watch it on the television and I remember the victory of the last Breton winner, Frédéric Guesdon, in 2008. When I did it in 2010, in my first year as a professional, I ended up in the breakaway and I found it amazing. Everyone was cheering me on, and later that evening, I fell in love with the race."
Tro-Bro Léon is a 200km slog through the Brittany countryside, scattered with two dozen sectors of ribinoù, dirt-covered farm tracks. It's considered the Paris-Roubaix of the west, and is circled on the calendars of most Breton riders.
"I've won three pigs," Pichon says proudly. "This is a very agricultural region, with a lot of livestock farming. It represents our culture. Giving a pig to the first Breton rider is a nice touch. I have a farmer friend in the north of Finistère, who takes care of the pig each time, and also looked after the one won by Olivier Le Gac [in 2018].
"I take the little piglet with me in the car in a wooden box, and drive it straight to the farm. One time, it came with me to my house. I might even have let it out into the garden for a little run around, but my friend came quickly and collected it."
Asked, somewhat naively, if he's able to go and visit his pigs, the 36-year-old answers matter-of-factly. "Um, they were there for a few months," he laughs. "They've since been turned into sausages. They had a great life. At the farm, they had their own huts and lots of healthy food. That's what makes good pigs."
Each of Pichon's piglets, won in 2016, 2017 and 2022, were given names by the farmer. The first was called Ty Pich, after the rider's nickname, 'Pipich' or 'Pich'. Then came Ty Pich 2 and Pitchounette. None of the trio lasted until the end of the year.
Is it possible, then, that Pichon ate the pigs he won? "A few bites, yes," he says. "Almost certainly.
"We try not to think too much about it when we eat the sausages, otherwise we get a bit attached."
4eme du @trobro2 @trobroleon malgré 2crevaisons dans le final.MERCI a mes coéquipiers @FortuneoVitalC.Le cochon a trouvé sa nouvelle maison pic.twitter.com/09cNwU4VEAApril 17, 2017
See more
Now in his fourteenth season as a pro, Pichon's goal remains the same: Win Tro-Bro Léon.
"I've ridden almost all of the biggest races in the world, but this is the one I love, the one that's in my heart," he says. "If I manage to win, that would be a huge achievement in my career, and I'd be very proud of it.
"Breton riders are always really up for this race. If we don't win, it's a nice consolation to be on the podium, with our pig, in front of all the people," he adds. "The dream is to be on the top step, together with the pig."
Thank you for reading 20 articles this month* Join now for unlimited access
Enjoy your first month for just £1 / $1 / €1
*Read 5 free articles per month without a subscription
Join now for unlimited access
Try first month for just £1 / $1 / €1