Keirin festival comes to Herne Hill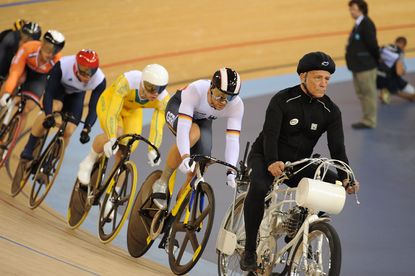 Rollapaluza and Toyko Fixed have teamed up to bring the Britain's first keirin festival to Herne Hill Velodrome, London, on Sunday, August 26.
British interest in the keirin is on a high thanks to recent Olympic gold medals scored by Sir Chris Hoy and Victoria Pendleton. The Brits may have dominated the discipline at London 2012, but it originates from Japan where it's a huge spectator sport attracting a vast amount of interest and betting, similar to the status afforded to horse racing in the UK.
The organisers say that the Keirin Festival will use a mix of Japanese and UCI rules in the race taking place in the newly re-surfaced open-air velodrome that was built for the 1948 Games. Six to eight riders at a time follow a derny bike, which then peels off to let the riders loose as they sprint against each other for the line.
Top British track talent Peter Mitchell and GB Academy riders Dave Daniell, Kian Emadi, John Paul, Lewis Oliva, Callum Skinner and Victoria Williamson are all down to ride.
Riers interested in taking part can register online.
It's free to spectate at the event, and there will be a bar, food stalls and a 'chance based' lottery with proceeds going to charity. Doors open at 1pm. Herne Hill Velodrome, 104 Burbage Road, Herne Hill, London SE24 9HE.
External link
Thank you for reading 5 articles this month* Join now for unlimited access
Enjoy your first month for just £1 / $1 / €1
*Read 5 free articles per month without a subscription
Join now for unlimited access
Try first month for just £1 / $1 / €1