11 things every cyclist says (and what we actually mean)
Professional cyclists aren't always renowned for telling the truth, but even in the amateur ranks we're not always completely honest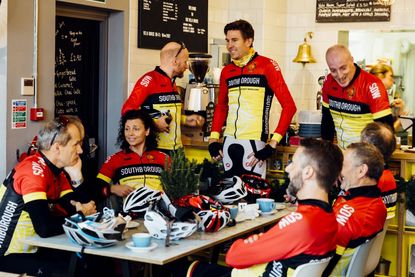 Get The Leadout Newsletter
The latest race content, interviews, features, reviews and expert buying guides, direct to your inbox!
Thank you for signing up to The Pick. You will receive a verification email shortly.
There was a problem. Please refresh the page and try again.
1. "I think my brake might be rubbing"
Translation: "I haven't been doing enough training, please don't drop me"
2. "I'm having a rest day"
Translation: "I just couldn't be bothered"
3. "I could really do with a lighter bike"
Translation: "I need to eat less cake"
4. "How's your training been going?"
Translation: "I really hope I can keep up with you"
5. "Yeah, my training's been going OK, but still feel like there's more to come"
Translation: "I'm absolutely flying and am going to drop you immediately"
6. "My legs aren't feeling too good this morning"
Translation: "I was out on the beers last night and would really prefer to be in bed"
7. "I got a flat at just the wrong moment"
Translation: "I didn't have the legs and got dropped like a stone"
8. "I don't really take my training seriously, I just try to enjoy riding my bike"
Translation: "I've got a training plan written out for the next three years and will be following it religiously"
9. "No, this tan is completely natural"
Translation: "I was up till 2am making sure the fake tan was applied evenly"
10. "I'm really more of a rouleur"
Translation: "I'm carrying a few extra pounds and I'm sorry if I get dropped at the first hill"
11. "I'm just treating this as a training race"
Translation: "When I get dropped in the neutralised section, at least I've got an excuse"
This article was updated on October 23, 2017
Thank you for reading 20 articles this month* Join now for unlimited access
Enjoy your first month for just £1 / $1 / €1
*Read 5 free articles per month without a subscription
Join now for unlimited access
Try first month for just £1 / $1 / €1