125 years of Cycling Weekly: races that made history
It's often said journalism is the first draft of history - we've reproduced our original editorial from some of the most famous stories ever to mark the 125th anniversary of Cycling Weekly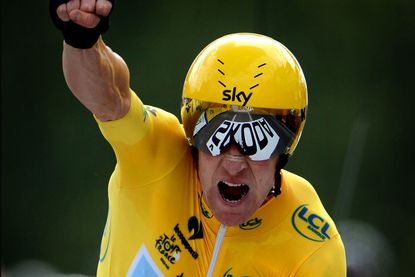 The full version of this article appears in the special 125th anniversary edition of Cycling Weekly, which is on sale now, where you can see all six races that changed the history of cycling.
You can subscribe here or pick up the digital copy here.
Gold at last!
July 29, 1992: Chris Boardman ended Britain's 72-year Olympic gold medal drought in spectacular fashion on the Lotus superbike — which got more attention from the mainstream media than its rider did.
By John Wilkinson
None of the British fans lucky enough to witness Boardman's night of nights will ever forget the spine-tingling experience.
Britain's 72-year gold medal famine ended in the most brilliant fashion with Boardman not just beating world champion Jens Lehmann but humiliating the tall, likeable German by catching him with just over one lap of the 250-metre Horta track to go.
From the gun he was moving fluently, 0.232 seconds up in half a lap and 0.307 starting lap two.
The gap was over a full second at the end of an opening kilometre covered in 1-10.325.
Smooth and comfortable in his exaggerated forward position, Boardman was nearly three seconds clear at halfway. After another two laps the electronic clock went haywire as he moved onto the same straight as Lehmann, the German now resigned to his fate.
Approaching the bell Boardman overtook, raising his right arm in triumph as he completed the most emphatic of victories.
To accompany the special anniversary edition of Cycling Weekly, we want our readers to choose their favourite cover from the
A magical moment for British cycling
July 22, 2012: Bradley Wiggins broke the Tour de France hoodoo that had existed since Tom Simpson's death in 1967 to become the first Briton to win the Tour, redefining the nation's relationship with cycling forever.
By Hugh Gladstone
It was an image few had dared to even imagine until recently. But on Sunday afternoon, as the sun beat down on the cobbles of the Champs-Elysées, Bradley Wiggins crossed the finish line to claim Britain's first ever overall victory in the Tour de France.
After an early season of success and three weeks of dominant riding by his team, Wiggins, on a bright yellow Pinarello, shared that moment hand in hand with team-mate Michael Rogers.
When called to the presentation, Wiggins projected a kiss to the fanfare. He then offered repeated bows to the legions of British supporters he'd inspired. British opera singer Lesley Garrett sang a soprano national anthem, then, given a microphone, Wiggins joked that he was going to be drawing raffle tickets.
In his by now familiar casual and confident style, Wiggins described the moment as 'magical', thanked everybody for watching and wished them a safe journey home. "Don't get too drunk," he added.
Sean Kelly: 'My greatest victory'
April 8, 1984: 'King' Kelly's first of two Paris-Roubaix wins was sensational. The first English-speaking rider to win the 'Hell of the North' was, as described by another Irish legend, the journalist David Walsh, "contemptuously strong".
By David Walsh
The Sean Kelly story just goes on. Last Sunday was perhaps the greatest chapter as Kelly, so strong and so confident, fulfilled a cherished dream when he won the most prestigious Classic, the Paris-Roubaix race.
It was something that Kelly (Skil-Reydel) had been threatening to do all season and the realisation was every bit as exciting as the expectation.
Into the velodrome in Roubaix he arrived with the Belgian Rudy Rogiers (Splendor), who was never a sprinting threat.
>>> Sean Kelly on riding the cobbles: 'You have to be crazy to win here' (video)
And so Kelly went past Rogiers on the turn into the finishing straight, zoomed about five lengths clear, glanced backwards, shot one hand into the air, then two — it was all so satisfying for the Irish rider.
"I regard it as my greatest victory ever. I was strong all through, never crashed once, never had even one puncture and was very lucky that it was Rogiers who came with me when I attacked.
"Now I can approach the remaining Classics of the season with a relaxed attitude. This was the one I wanted to win."
Thank you for reading 20 articles this month* Join now for unlimited access
Enjoy your first month for just £1 / $1 / €1
*Read 5 free articles per month without a subscription
Join now for unlimited access
Try first month for just £1 / $1 / €1