Alberto Contador and Peter Sagan join Tinkoff-Saxo team-mates to climb Kilimanjaro
British sports director Sean Yates will also join the Tinkoff-Saxo team-building trek in Africa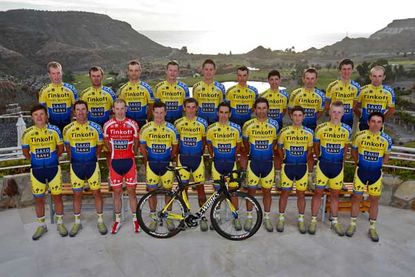 Team Tinkoff-Saxo, including Alberto Contador and Peter Sagan, will meet in Tanzania tomorrow to climb the highest peak in Africa, Mount Kilimanjaro.
"A number of Tinkoff-Saxo team members have been asking me to organise a team-building trip," team manager Bjarne Riis said.
"This will be a very good challenge for everybody and I look forward to seeing how the team reacts under this kind of stress and difficult conditions, climbing in such high altitudes."
The Russian team's entire 30-man roster, including new signing Sagan, and staff members – 80 people in total – will meet in Moshi, Tanzania, for the six-day camp. Sky's former helpers, Bobby Julich and Sean Yates, are expected to join the trek having joined the team for 2015.
Kilimanjaro is the highest freestanding mountain in the world, so it will not be an easy outing for the elite athletes. Tinkoff-Saxo will set off in the open plains near Moshi for the ice caps above.
The team's members must endure hikes up to eight hours for four days to reach the base camp at 4040 metres. From there, at midnight on November 4, they are due to depart for the summit at 5895 metres.
The rapid elevation produces elevation sickness for some. Others suffer headaches brought on by the high winds and quick temperature drops near the top.
Sagan signed a contract estimated at €4m (£3.15m). Contador earns millions of pounds, as well. Such an adventure may seem like a risk for skinny cyclists on the heels of a long season and ahead of the 2015 year where Tinkoff-Saxo wants to win races like the Tour de France and Tour of Flanders.
Riis, however, remains convinced in his stress testing camps
"I want to see a group where everybody works together, building the foundations for the next season," Riis said.
"It is no secret we aim at becoming the best cycling team in the world but how do you define that? Is it the team with the most points, the team with the most race victories or is there more to it? For me, it is the team that has a bit of everything; points, victories but also members that are proud to be a part of it.
"We want a team that has values and works with values and a trip such as this one will help us create a very strong and united group."
The Danish 1996 Tour de France winner who admitted to doping later years introduced military-style boot camps to cycling by taking his CSC team through the woods and waters of his home country. Guided by experts like Danish Ranger Corps soldier B.S. Christiansen, the cyclists drove blindfolded, climb poles and navigate the cold waters of northern Denmark.
It continued over the years. The team's stars shot pistols in Denmark, swam two miles in Spain's open waters and re-model a cycling school in Israel.
Other teams in recent years have followed Riis's lead, but stayed closer to home and did push their cyclists to such extremes. Garmin met in the Cayman Islands and last week, Sky sailed off Weymouth's shores.
Tinkoff-Saxo's appear excited to embark on Riis' Kilimanjaro camp. Sagan posted a photograph on Twitter of himself packing ahead of the adventure in Africa.
Former Sky and current NFTO directeur sportif Sean Yates could move back into the WorldTour next season
Double Giro d'Italia winner Ivan Basso inks two-year deal with Tinkoff-Saxo team
Thank you for reading 20 articles this month* Join now for unlimited access
Enjoy your first month for just £1 / $1 / €1
*Read 5 free articles per month without a subscription
Join now for unlimited access
Try first month for just £1 / $1 / €1