Alex Dowsett has rare Canyon team bike stolen in burglary
British Katusha-Alpecin pro Alex Dowsett makes plea for people to keep a look-out for the unique Canyon Speedmax time trial bike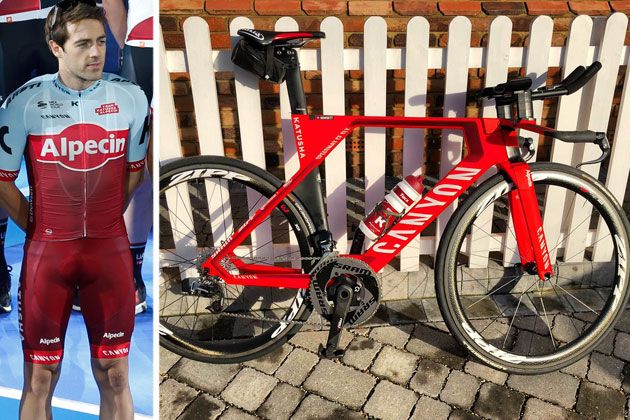 (Image credit: Yuzuru Sunada/Alex Dowsett)
Alex Dowsett has had his one-off Katusha-Alpecin Canyon Speedmax time trial bike stolen during a burglary at his house in Essex on Monday.
The British professional rider posted details on Tuesday of the burglary at his Chelmsford home, saying that he thought it was a targeted theft and that the incident had been an emotional strain on him and his partner, Chanel.
Dowsett posted a message via Twitter, asking for people to look out for his distinctive red Canyon machine, which has a SRAM Red eTap electronic groupset and Zipp 303 wheels. It is clearly branded with the Katusha team name.
"This wasn't an opportunist steal, or an opportunist taking advantage," said Dowsett.
"Whilst we are extremely rattled by the fact someone seemingly planned and executed a burglary and invasion of privacy of our home specifically while I was away, I am asking you to take a minute to share this post as much as you can to track down my bike and to track down the thieves that took it. It's likely the only one of its kinds in the country, it has Zipp 303s and SRAM Red eTap.
Dowsett is currently taking part in the Dubai Tour, a fact that could possibly have been known by the thieves.
"The police are well informed and have been phenomenal in their help already and we're taking every step to try and prevent anything like this happening again in already what is a secure house," Dowsett said.
"If someone want something so bad, sadly it's difficult to stop them. If you see this bike at a race, online, rolling around the streets, in a house, etc, please, please get in touch with us or Chelmsford Police."
>>> Alex Dowsett reveals harrowing near-miss with car that left him in tears
"To the thieves personally, you have a material good that belongs to us but the emotional stress, sleepless nights and worry you have caused by breaking into our home and our safe place is distressing beyond words.
"You have no idea what else could be going on in our lives and the impact this has on that – the glimpse I allow you through social media is something I do freely but leaves me seriously concerned moving forward for the safety of our haven we call home."
Anyone with information can contact the police by telephoning 101 or anonymously via Crimestoppers, either online or by telephoning 0800 555 111.