Armstrong needed plate and 12 screws to fix collarbone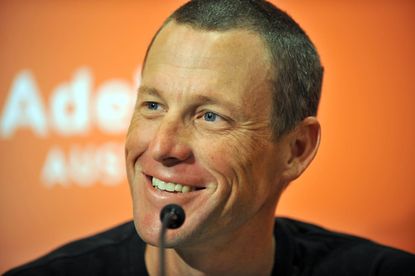 Lance Armstrong has successfully undergone surgery in the US to repair his broken right collarbone.
Armstrong crashed heavily during the Vuelta a Castilla y Leon stage race in Spain on Monday. He was taken immediately from the roadside to hospital where he was diagnosed with a broken collarbone.
The seven-time Tour de France winner then returned to the USA where he was examined by doctors and surgeons in his hometown of Austin, Texas. Their examinations revealed that Armstrong's collarbone was broken into four pieces - a more complicated break than originally thought.
To aid the bone's recovery, surgeons used a metal plate and 12 screws to bind the bone back together to help it knit into place. Lead surgeon Doug Elenz described the procedure to reporters as "a challenge. It was a hard case".
Armstrong is still intending to ride in May's Giro d'Italia and July's Tour de France. It is thought that he will be able to get back on a turbo trainer within a week, although the bone may take up to 12 weeks to fully heal.
Despite Armstrong's absence from the race, his Astana team-mate Levi Leipheimer is currently leading the Vuelta a Castilla y Leon, with the squad's Alberto Contador in second.
RELATED LINKS
Armstrong to have surgery on broken collarbone
Armstrong confirms broken right collarbone in Spanish crash
Lance Armstrong: Rider Profile
Valverde wins stage three of Castilla y Leon
Thank you for reading 5 articles this month* Join now for unlimited access
Enjoy your first month for just £1 / $1 / €1
*Read 5 free articles per month without a subscription
Join now for unlimited access
Try first month for just £1 / $1 / €1