Aside from your bike, what essential items do you take with you on every sportive?
No matter how much you pack into the car there always seems to be something missing. We ask our readers what's on their essential packing list for a sportive. In association with Decathlon.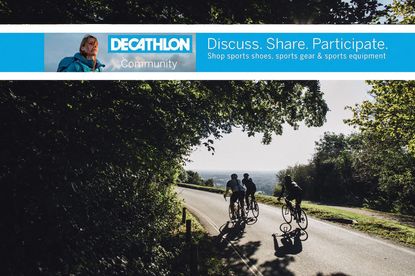 We've all been there, scrabbling around the boot of the car looking for that spare inner tube that is definitely in there somewhere.
The list of essential items for a sportive gets bigger and bigger in the quest to avoid that inevitable sense of dread, ''I'm sure i've forgotten something''.
But what are the weird and wonderful things that you just can't live without when travelling to an event? We recently asked Cycling Weekly readers what essential items they would pack and got some great answers. A selection of them are below, presented in association with Decathlon.
>>> 12 of the best upcoming cycling sportives to ride
Aside from your bike, what essential items do you take with you on every sportive? Tell us in the comments section below
A pack to fit in my jersey pocket that contains two tubes, two gas canisters, two tyre levers and some patches. Also have emergency funds in case the worst happens.
Stu Hindmarsh
Toilet paper. You never know.
Timothy Rush
A sense of humour.
Joe Spencer
Epi-Pen. Can never be too careful about cross-contamination at the feed stations from the nutty food to nut-free stuff.
Mark Body
I tend to take too much food. More often than not, feed stations are placed where (and when) you'll need to take on fuel. I only take one bidon as a result and fill it at the stations. Saves weight.
Chris Stones
The voices in my head.
James Baggott
Watch now: What to eat for your next sportive
Helmet, glasses, multi-tool and tyre levers, spare tube, CO2 canisters and inflator. Energy gel for emergency bonking, homemade flapjacks, mini pork and pickle pie, two bottles of fluid.
Chris Alston
Jelly babies.
Rachel Franklin
Details of the short route. Just in case.
Richard Hine
Saddlebag with spare tube, puncture repair kit, multi-tool, levers, CO2, a plastic shoe cover (for over the seat if I have to change a tube in gritty/mucky area), rubber gloves, wet wipes in individual sachets and a small first aid kit with a couple of antiseptic wipes and a couple of large dressings.
For pockets: packable waterproof, phone, cash, keys, tissues. Arm and leg warmers (maybe left in car).
Food: cheese and Marmite sandwiches (well squashed so they don't fall apart, cut in bite-sized bits) and fig rolls in two separate zip-lock bags, a couple of extra rehydration tablets.
>>> Fuel on the go: How to choose the best fast food nutrition (video)
Drink bottles ready to go with hydration tablets. Helmet, gloves, glasses, lights and pump for on frame, and Garmin.
In the car: a couple of towels for sitting on and one to dry myself off if wet. Warm clothes to pull on over cycling kit when stopped or to change into.
Clean socks. Large pack of baby wipes to clean myself up a bit, a protein snack or drink, two 'click to activate heat packs' — this is Britain we are talking about after all!
Nadia Lewis
Thank you for reading 20 articles this month* Join now for unlimited access
Enjoy your first month for just £1 / $1 / €1
*Read 5 free articles per month without a subscription
Join now for unlimited access
Try first month for just £1 / $1 / €1