BBC SHOW LOOKING FOR BIKE BUYER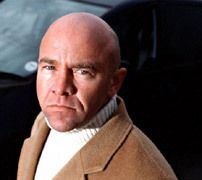 Don?t Get Done, Get Dom, BBC1?s popular consumer affairs programme, is back for a second series and is looking for people who?d like to save money on a major purchase for a loved one ? and be on TV.
Producers of the show FlameTV are after someone who wants to buy a new bike for a partner, child or friend for Christmas.
They're not looking for any particular type of person, the only requirements are that the bike is expensive (£1,000+), is a gift for someone else and that they have the money! The show's Dominic Littlewood (pictured) will be on hand to make sure that you get the very best deal on a new bike.
Filming starts in October, so if you want to get involved with the show get in touch with the producers as soon as possible. For further details about the show ? or to apply to be on it - please contact FlameTV on the numbers below:
Series hotline: 020 7278 5052
Series email: dom@flametv.co.uk
Thank you for reading 20 articles this month* Join now for unlimited access
Enjoy your first month for just £1 / $1 / €1
*Read 5 free articles per month without a subscription
Join now for unlimited access
Try first month for just £1 / $1 / €1