Boardman clocks 3-19 in London Marathon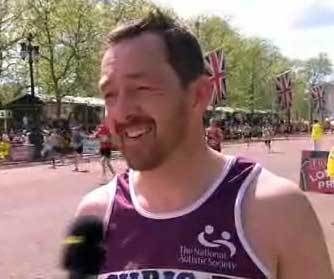 Former British professional rider turned coach/bike designer/commentator Chris Boardman completed Sunday's London Marathon in a respectable 3 hours 19 minutes 27 seconds.
Boardman, now 41, took part in the 26-mile running event to raise funds for the National Autistic Society, and was interviewed shortly after finishing by the BBC's Sue Barker.
Asked by Barker whether he was feeling the pain after the event, Boardman said "I broke my ankle in the Tour de France, and the last six miles... it's knackered frankly.
"I didn't have a lot more to give, I'm glad I've done it, but can't imagine doing another one."
"It's an experience like nothing else I've ever done. It's quite something. It's a personal challenge. It's a voyage of self discovery, that sounds a bit arty, but that's how it is."
When asked whether he'll be taking part again next year, Boardman gave a short answer. "We'll see."
Boardman, sporting a beard, revealed that he'd had a light-hearted wager with Chris Hoy before the event. The triple Olympic gold medallist vowed to give Boardman a pound for everyone who shouted "Where's your bike?" whilst he was running.
Several former cyclists have taken part in marathons in recent years. Laurent Jalabert famously ran the New York marathon in 2005 in a stunning time of 2 hours 55 minutes 39 seconds. Lance Armstrong bettered that in the same event in 2007 by coming home in 2 hours 46 minutes 43 seconds.
During his cycling career, Boardman racked up a massive collection of victories including a gold medal in the 1992 Olympics (individual pursuit), Tour de France stages, World Hour records and World Championships titles. His full list of professional road wins can be found in Cycling Weekly's all-time list of British pro winners, where Boardman tops the table.
RELATED LINKS
Cycling Weekly's all-time list of British pro winners
Britain's cycling Olympic medal winners
EXTERNAL LINKS
Thank you for reading 20 articles this month* Join now for unlimited access
Enjoy your first month for just £1 / $1 / €1
*Read 5 free articles per month without a subscription
Join now for unlimited access
Try first month for just £1 / $1 / €1