Booking opens for Lee Valley VeloPark
Taster sessions on the London 2012 Velodrome and new closed-road circuit are now available for purchase online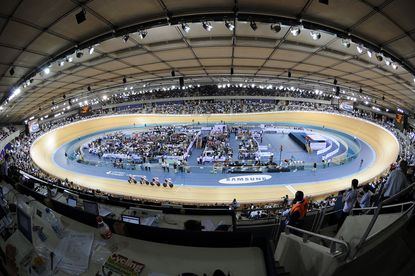 Online booking opens today for those wishing to ride at the Lee Valley VeloPark in Stratford, East London.
The facility, which includes the iconic London 2012 Velodrome and brand new one-mile long, floodlit and closed-road circuit, will begin hosting public sessions on March 31.
However, the opening of the online booking system today is to coincide with the countdown to the VeloPark's formal launch, which takes place in a month's time.
Taster sessions are available for everyone - from grassroots level to elite riders, from toddlers to more mature riders, and everyone in between. There are specific women-only sessions, as well as those for disability cycling and tandem rides for the visually impaired.
Chief Executive of Lee Valley Regional Park Authority, Shaun Dawson, said: "The London 2012 Olympic and Paralympic Games inspired a new generation of cycling enthusiasts. Lee Valley VeloPark will build on the legacy of the Games and will give the public a unique chance to cycle at the same venue as the world's best athletes."
The Velodrome will also host the 2013-2014 Revolution Series finale on March 14-15; the first major event to be held there since the 2012 Paralympics.
To book your taster sessions, go to visitleevalley.org.uk/velopark.
Thank you for reading 20 articles this month* Join now for unlimited access
Enjoy your first month for just £1 / $1 / €1
*Read 5 free articles per month without a subscription
Join now for unlimited access
Try first month for just £1 / $1 / €1