BOS SETS NEW 200 METRE RECORD IN MOSCOW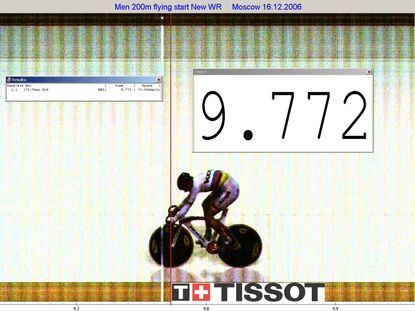 There was some spectacular racing on the fast Moscow track on the second day of the World Cup on Saturday, as Holland?s Theo Bos set a new flying 200 metre world record of 9.772 seconds and the Recycling.co.uk pursuit team won gold in 4-03.
Disappointed with his time of 9.982 in the sprint qualifying round, the powerful Dutchman had another go between sprints and smashed Curt Harnett?s 1995 record set in Bogota, Colombia. Bos went on to win the sprint competition, beating Stefan Nimke of German, 2-0 in the final. Craig Mclean finished by beating Maximilian Levy of Germany 2-0 in the bronze-medal ride-off.
British trade team riders dominated the pursuit events with the Recycling.co.uk team winning the men?s team pursuit and Wendy Houvenhagel of Science in Sport beating Rebecca Romero in the women?s pursuit event.
Ed Clancy, Geraint Thomas, Paul Manning and Chris Newton mixed young talent and experience to win a historic gold for Recycling.co.uk, setting a time of 4-03.275 in the final. They beat the strong Russia team by more than three seconds, with a final kilometre in a scorching 57.61 seconds. In a near perfect ride they went almost three seconds faster than their 4.05.911 qualification time. Germany beat the Ukraine in the ride-off for bronze with the Great Britain team of Mark Cavendish, Rob Hayles, Ross Sander and Andy Tennant fifth in a time of 4-09.249.
Wendy Houvenhagel (Science in Sport) dominated the women?s pursuit, setting the fastest qualifying time and then beating fellow Brit Rebecca Romero in the final with a time of 3-39.443. Romero set a time of 3-40.029 after a similar time in qualification.
On Friday Rob Hayles finished second in the men?s individual pursuit behind Robert Bartko of Germany. Hayles set a time of 4-23.032 but then slowed in the final, recording 4-26.472 as Bartko recorded 4-25.862. Paul Manning finished third with a time of 4-28.040 in the ride for the bronze medal.
The only disappointment from the first two days of the three-day event was the seventh place by Victoria Pendleton in the women?s sprint. She was fourth fastest in qualification but then was eliminated 2-0 by Germany?s Dana Gloss in the quarter finals.
The racing ends on Sunday with the men?s Madison, women?s scratch and keirin, and the men?s team sprint.
Thank you for reading 20 articles this month* Join now for unlimited access
Enjoy your first month for just £1 / $1 / €1
*Read 5 free articles per month without a subscription
Join now for unlimited access
Try first month for just £1 / $1 / €1