BOWDLER TAKES YORKSHIRE BY STORM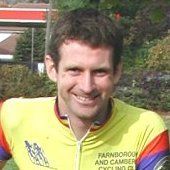 FARNBOROUGH and Camberley CC time trial ace Nik Bowdler made a successful day trip to the east coast of Yorkshire on Sunday, winning the Team Swift 10 by four seconds.
The 38-year-old made an early start from his home in Guildford, but it was worthwhile as he clocked 20-11 to win the event by four seconds from local man Julian Ramsbottom, the De Rosa RT rider from Scunthorpe.
Frosty windy conditions made sure the course record of 19-11 was not going to be threatened, but there were plenty of riders there aiming to take full advantage of an early event on a super-fast course at North Cave.
There were 95 entries and only five non-starters in an event which struggled to attract 50 last year, and organiser Derek Roe expects a full field for next year?s event as word spreads about the potential for fast times on the course.
Lancashire visitor Tim Lawson (Science in Sport.com) took third with a 20-31, while course record holder Keith Murray was fourth with 20-39, and led WHeelspin Cycles.com to the team prize alongside Scott Rose and Brett Harwood, fifth and sixth respectively with 20-43 and 20-49.
But Bowdler was not the only rider to come from afar for the event, with people from Dumfriesshire, Blackpool and Brentwood in Essex also making the journey.
Team Swift 10 (North Cave, East Yorks).-

1 Nik Bowdler (Farnborough and Camberley CC) 20-11
2 Julian Ramsbottom (De Rosa RT) 20-15
3 Tim Lawson (Science in Sport.com) 20-31
4 Keith Murray (Wheelspin Cycles.com) 20-39
5 Scott Rose (Wheelspin Cycles.com) 20-43
6 Brett Harwood (Wheelspin Cycles.com) 20-49
Team.- Wheelspin Cycles.com 1-02-11. Veterans.- Tim Lawson. Women.- Clare Ella (Lincoln Wheelers) 23-11. Juniors.- David Brierley (Cottingham Coureurs) 24-29.
Thank you for reading 10 articles this month* Join now for unlimited access
Enjoy your first month for just £1 / $1 / €1
*Read 5 free articles per month without a subscription
Join now for unlimited access
Try first month for just £1 / $1 / €1
Snowdon Sports is a long-established independent sports news agency, which supplies editorial to a range of media outlets - such as Cycling Weekly - as well as sports governing bodies. Snowdon Sports often covers results at Cycling Time Trials events in the UK and has long been a source of information and imagery to Cycling Weekly.