Bradley Wiggins's return will inspire British track cyclists, says Hoy
Sir Chris Hoy says Bradley Wiggins can be the figurehead of the British track cycling team when he returns after his Team Sky contract ends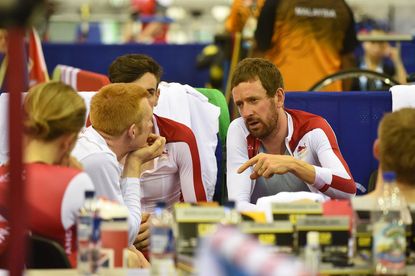 British track cyclists returned from February's World Championships with just three silver medals and six-time Olympic gold medallist Sir Chris Hoy believes fellow knight Bradley Wiggins is just the man to revitalise their ailing fortunes.
With just over a month left on his Team Sky contract, Wiggins' return to the track is imminent, and Hoy says the 34-year-old could be the figurehead that the track team needs.
Wiggins didn't compete in the Paris World Championships due to his commitments on the road with Sky, but has spoken of his desire to return to win a potential fifth Olympic gold in Rio next year.
Hoy told skysports.com: "What you tend to need is a bit of a spark – something to get the momentum going, get that morale up a little bit. Once that morale is there, it's a snowball effect.
"I personally think that someone like Bradley coming back into the team could be significant for morale, to have that figurehead in the team, to really be leading them into battle in Rio. That will be the crucial - not deciding - factor, but it will certainly help the team.
"You can just see the guys when Bradley turns up for training. Before the Commonwealth Games, when he was in the track centre, everyone was walking a little bit straighter and taller. Everybody is inspired by him so, fingers crossed, he will have a positive effect on the team on the whole."
Thank you for reading 20 articles this month* Join now for unlimited access
Enjoy your first month for just £1 / $1 / €1
*Read 5 free articles per month without a subscription
Join now for unlimited access
Try first month for just £1 / $1 / €1