Bradley Wiggins rules out a second Hour Record attempt
Wiggins admits air pressure may have cost him "Rominger's record".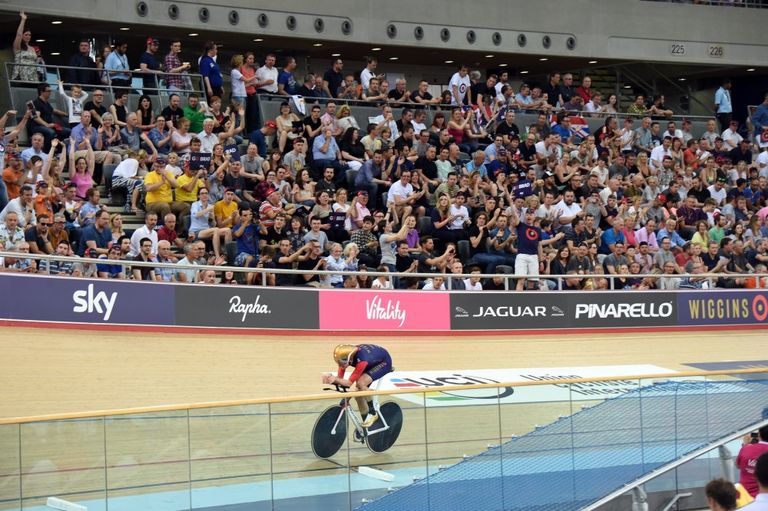 (Image credit: Watson)
Bradley Wiggins says he won't attempt to break the UCI Hour Record for a second time, despite adding over one-and-a-half kilometres onto Alex Dowsett's previous benchmark in less than favourable conditions in London this evening.
Wiggins delivered a measured performance to ride 54.526 kilometres in the Lee Valley Velodrome, but was handicapped by atypically high pressure of 1030mb, which he said cost him around 700 metres.
"That was the best ride I could hope to do," said Wiggins. "When you pick a date out of the air, you can't account for the conditions. For every 20mb, it's a tenth per lap more, and that was probably the difference between doing Rominger's record [of 55.291km].
"I won't go for it again. Timing wise, this is my end of season; I'll build up from the end of July for the track.
"We're a year out from the Olympics, so the training will be quite different. It was a case of now or never in many ways, and I'm glad I got my name on the list."
Wiggins also said he found the mental challenge of the Hour tougher than the physical side of it.
"I remember at 33 minutes in, the realisation that I still had 27 minutes left to go," added the 35-year-old.
"You're counting down the last minutes. I saw there were seven minutes to go, and I said I'd try not look at lapboard for 10 laps – but after two you thinking 's***!'