Bradley Wiggins' Tour de France blood values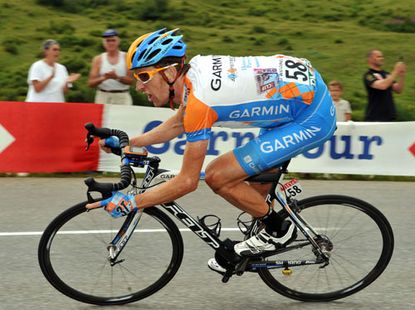 Bradley Wiggins has released his blood values from the Tour de France to Cycling Weekly.
The Garmin rider promised during the event that he would make his records public, in order to quash speculation about his stunning performance at the Tour, where he was fourth overall. He also included data from the first half of 2009, and the first half of 2008.
The graphs show the "Off Score", which is calculated from the relationship between haemoglobin levels and the percentage of reticulocytes (immature blood cells). A maximum off score of 134 is permitted – Wiggins recorded well below that, and his values dipped throughout the two Grand Tours he rode, which is typical.
We understand that haematocrit levels are no longer used as a primary indicator of blood manipulation – although readings are taken, the test is no longer taken immediately, and it has been shown that storage and transit can alter the figure.
"Brad is an exceptionally talented athlete and it was great to see him do so well in the Tour de France. He's always been an outspoken advocate of clean cycling. He requested that we release his results after the Tour and his decision makes me and the entire team proud," said Jonathan Vaughters, CEO of Slipstream Sports.
The Garmin team also released the following explanation of the figures:
Blood profiles for Bradley Wiggins (Feb 16, 2008 to July 25, 2009)
Data supplied by Garmin-Slipstream team
Two variables are shown - the "Haemoglobin" (red squares), which is the concentration of oxygen carrying protein in red blood cells, and the "Off Score" (blue diamonds), which is a variable calculated from the haemoglobin concentration and the percentage of reticulocytes or immature red blood cells (Off Score = Hg - (60 x Square Root of Reticulocytes)).
The Off Score, which takes into account the relationship between haemoglobin and reticulocyte concentration is currently used as the reference point for assessing an athlete's blood profile. Since reticulocytes tend to decrease when haemoglobin is artificially high, the combination of a high haemoglobin and a low reticulocyte raises the Off Score. The upper limit for the Off Score is 134 (indicated by the blue line).
Averages and standard deviations for haemoglobin, reticulocytes and off score were 14.93 +/- 0.8 g/dl, 1.00 +/- 0.16% and 89.4 +/- 9.4 respectively. All of these values are well below the cut off limit, exceeding four times the standard deviation below the upper limit for the Off Score average. Most importantly, the trend during the 2009 Giro d'Italia and the 2009 Tour de France was downward, indicating a drop in blood parameters over the course of each race.
Thank you for reading 20 articles this month* Join now for unlimited access
Enjoy your first month for just £1 / $1 / €1
*Read 5 free articles per month without a subscription
Join now for unlimited access
Try first month for just £1 / $1 / €1