Brailsford satisfied after Team Sky's first race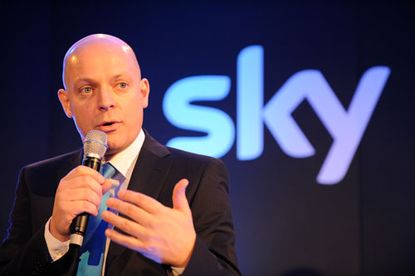 One week in to the racing life of Team Sky and the British team has already notched up two wins and a podium finish on general classification.
Chris Sutton lead a Sky one - two on the final stage in Adelaide today, book ending a week of racing that also saw Greg Henderson finish third overall at the Tour Down Under behind André Greipel and Luis Leon Sanchez.
"If you'd told me that's what we'd come away with when we got on the plane to come down here I'd have taken it with both hands," Brailsford said. "There's a lot of learning to be done, but it's a great start and we'll go home on a high."
"It's a steep learning curve, and from my point of view we're starting to establish the things we don't know. there are certainly things that we have learned this week."
Brailsford also admitted to being frustrated at the constant speculation over the budget he has at his disposal. During Sunday's circuit race in the centre of Adelaide, the announcer told the crowd that Sky's budget was $54m (about £30m). "Everyone tries to big us up in terms of budget. We may circulate the UCI list," said Brailsford.
"We're sixth in the league table. It's a total myth and we'll try and put that right by providing some facts. It doesn't do us any favours."
Stepping up
Brailsford also reminded the press that as a new team, Sky remained the underdogs, regardless of budget. "The guys have done tremendously well, but we've got some work to do, it's another level."
"Russell [Downing] spent all last year racing in the UK, for him it's another level - we've got to adapt to that and move on."
Downing, along with Ben Swift, came to Australia after a week of training indoors on a static trainer thanks to the British weather. "I had some difficult days at the start, and I don't think I came here with the right condition," Swift said. "But that was the weather back home. Hopefully now I've had a good workload, I'll rest up and I'll be okay. This definitely wasn't a holiday."
Even without the best preparation, Swift used his team pursuiting knowledge to slot in to the Sky lead-out train. "Today was perfect. It was a much smoother effort throughout team, everyone did a perfect job. It's what we planned all week."
Tour Down Under 2010: Race reports
Tour Down Under, stage five: Sanchez wins stage five as Greipel clings on
Tour Down Under, stage four: Greipel takes his hat-trick
Tour Down Under, stage three: Cardoso takes win ahead of Valverde
Tour Down Under, stage two: Greipel takes win number two
Tour Down Under, stage one: Greipel takes back sprint crown Cancer Council Helpline Classic: Team Sky off to perfect start as Henderson wins


Tour Down Under 2010: Related links




Armstrong surprises field with late attack on TDU stage four
Team Sky miss out on stage four
Armstrong finding it tough at the Tour Down Under
Downing adapts to embrace new challenge
Hayman admits to nerves before Sky's debut
Tour Down Under news round-up (Jan 16)
Armstrong leads thousands on Twitter ride in Adelaide
Team Sky ready for first race
Armstrong warms up Down Under
Armstrong in Australia: "I'm in better shape than last year"
Team Sky gets ready for Tour Down Under
Tour Down Under 2010: Start list
Lance Armstrong to ride 2010 Tour Down Under
Cadel Evans and BMC to ride Tour Down Under
Tour Down Under teams confirm rosters
Davis wins 2009 Tour Down Under
Tour Down Under 2010: Photo galleries
TDU stafe five photo gallery by Graham Watson
TDU stage four photo gallery by Graham Watson
TDU stage three photo gallery by Graham Watson
TDU stage two photo gallery by Graham Watson
TDU stage one photo gallery by Graham Watson
Cancer Council Helpline Classic
Armstrong in Adelaide


External link





Tour Down Under official website
Thank you for reading 5 articles this month* Join now for unlimited access
Enjoy your first month for just £1 / $1 / €1
*Read 5 free articles per month without a subscription
Join now for unlimited access
Try first month for just £1 / $1 / €1