Brailsford: Wiggins was exceptional in Paris-Roubaix
Team Sky boss, Sir Dave Brailsford, says Bradley Wiggins will go down as one of Britain's best ever athletes thanks to the versatility he has shown in his cycling career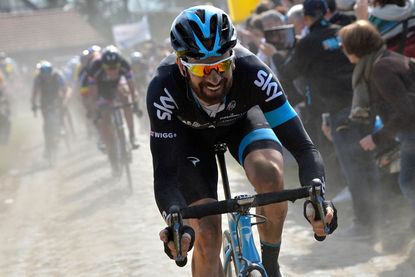 (Image credit: Watson)
Sir Dave Brailsford admits he thought Bradley Wiggins might have made a winning attack when he sped off the front of the peloton in Sunday's Paris-Roubaix.
In his last race for Team Sky, Sir Brad made his move with around 30km to go, but was soon closed down by the chasing pack.
>>> End of an era: How Wiggins and Sky created history
And while Wiggins says the attack fulfilled his childhood dreams, growing up in London and watching his heroes ride the famous cobbles, Brailsford says the 2012 Tour de France champion's performance on the whole was exceptional.
"So much was made about this race with it being Brad's last appearance for us, and it was difficult to watch it in the same way you normally would," he told Teamsky.com.
"Some detractors may say him finishing 18th is a little underwhelming, but if you take a step back, the guy has won the Tour de France and the Olympics and did absolutely everything he could today. He was there with 30km to go attacking on his own, and at that point I was thinking 'Jesus, he might ride away from everybody here'.
"That takes some doing and he should hold his head up high. He gave it a good old crack, like he always does. For a lot of people it was all about him and his performance today, and I think he did exceptionally, as always."
>>> Bradley Wiggins, coming to a time trial near you
In the first week of 2015, Wiggins and Sky agreed on a contract extention that took him through to Paris-Roubaix – a race that the time trial world champion had set his heart on winning.
As the dream faded away towards the end of Sunday's race, attention turned to Wiggins's future on the track and his legacy at Team Sky. And Brailsford says the rider will go down as one of the best British athletes ever.
"I'm sad to see him go, and yes, it's emotional. These things comes to an end though and you try to think of a nice way to end a sporting career - do you step out at the top or do you become a fading light and drift away?" Brailsford added.
"Personally, we have been through a lot together and he has done an awful lot for British cycling, and the whole of sport.
"When you consider his versatility, he has got to be right up there with one of the best athletes that the country has ever produced."
Thank you for reading 20 articles this month* Join now for unlimited access
Enjoy your first month for just £1 / $1 / €1
*Read 5 free articles per month without a subscription
Join now for unlimited access
Try first month for just £1 / $1 / €1