End of an era: How Wiggins and Sky created history
Sir Bradley Wiggins and Team Sky have grown in tandem, experiencing tremendous highs and crushing lows. It wasn't just about the team's support for its star rider; it was also about its exceptionally high expectations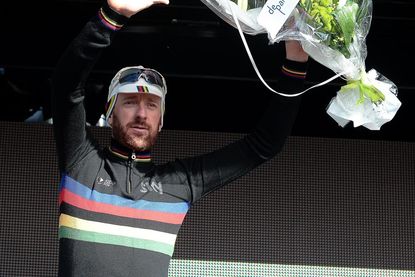 (Image credit: Watson)
Bradley Wiggins once joked that when he first encountered Dave Brailsford, almost 17 years ago, Brailsford "was sweeping the corridors outside Peter Keen's office."
Wiggins was the junior world pursuit champion and Brailsford was the man employed by Keen, the performance director at British Cycling, to manage logistics and spreadsheets, to get bikes and make sure the numbers added up.
Wiggins exaggerated his future boss's lowly status for comic effect – he was speaking in the autumn of 2012, after his Tour de France and Olympic successes – but it is true that Brailsford was Keen's subordinate, and that any notion of him one day taking over might have seemed far-fetched.
Yet Wiggins and Brailsford have ridden and risen in tandem ever since – until this weekend, in fact, when Wiggins will race for the last time for Team Sky. He is not retiring, exactly, but rather embarking on a Sinatra-esque farewell, setting up his own team and bidding to compete in a fifth Olympic Games in Rio in 2016.
But as of Monday the link to Brailsford will be severed, an era will end, and both Wiggins and Team Sky will seem somehow different.
In 2004, when Wiggins beat the pursuiter he considered unbeatable, Bradley McGee, to win an Olympic gold medal in Athens, Brailsford was in the midst of taking over from Keen.
It was the start of the Brailsford regime and also of Wiggins realising the talent that Keen identified in 1998 when he made him the first member of the new, lottery-funded World Class Performance Plan.
Over the following decade the British set-up became more (and sometimes less) than a vehicle for Wiggins to fulfil his potential. It also provided a safe haven. For much of this time he drifted around French teams – FDJ, Credit Agricole and Cofidis – without ever carving out a meaningful role. One reason was that he didn't need to; he could always find sanctuary back in Manchester.
The national team, and the track, provided a safety net or life raft. It might have prevented him from losing the plot or sinking into the morass. But it may also have helped to keep him in a comfort zone.
Wiggins has said that the British Cycling/Team Sky set-up has felt like a family – he has variously described Brailsford as a big brother or uncle figure, with Shane Sutton like a father – but there have been moments in his career when the unconditional love and support perhaps did him no favours.
Which is why arguably the best thing Brailsford ever did for Wiggins was not signing him for Team Sky in late 2009, but almost sacking him a year later.
It was logical that when Brailsford was assembling Sky he would want to sign Wiggins from Garmin. Then, after Wiggins shed around ten kilograms following the 2008 Olympics – where he won gold medals in the individual and team pursuit – and finished fourth in the 2009 Tour de France, it became not just logical, but essential.
Wiggins' year at Garmin was an interesting, formative and probably necessary interlude: the first time that he really found a home away from British Cycling. It allowed him to spread his wings and taste freedom: a bit like a student going off to university.
He made new friends, drank beer and got to play his own music on the bus (nobody who was there can forget the Garmin bus throbbing to the Sex Pistols' Pretty Vacant towards the end of the 2009 Tour).
His first year back 'home' at Sky did not go well. It was virtually an extension of British Cycling – same people, same ethos – but for Wiggins it was not the same safe haven. Perhaps the stress of the previous winter's on-off-on transfer from Garmin took its toll. Perhaps he missed the freedom he enjoyed at Garmin (if they play the Sex Pistols on the Team Sky bus it's with the volume turned down).
In late 2010, with Wiggins in a post-Tour trough, when he skipped the world championships in Melbourne, Brailsford summoned him to his office and gave him what amounted to a final warning. Gone was the unconditional support. Time for tough love.
Wiggins could have responded like a petulant teenager. Instead he began working with a new coach, Tim Kerrison, as well as linking up again with Sutton. He grew up. He got serious: really serious.
The Wiggins of 2011, who crashed out of the Tour, then returned to win in 2012, was, finally, the athlete who Keen hoped he could become back in 1998. That Tour victory was an individual and collective triumph: for Wiggins himself and for the programme that Keen set up and Brailsford took over.
They are mutually indebted, but Wiggins was the perfect athlete in such a system – goal-focused and prepared to commit 100 percent if the motivation was there. And as long as the system was built around him. That's what brought out the best in Wiggins. With the odd exception (when he bought in late to the plan to win the world title with Mark Cavendish in 2011, for example), he has never seemed so keen to be part of a system dedicated to somebody else's goals.
Even if there have been failures along the way (the Tour in 2010, the Giro in 2013) the blueprint worked time and time again, from Athens to Beijing, to the Tour in 2012 and the world championships in 2014. He has prepared for Paris-Roubaix on Sunday in the same way, with the same team around him: time will tell whether he can pull it off again.
Yet for all his achievements, one of the most remarkable things about Wiggins' career is that even as he drifted around other teams, and enjoyed his gap year at Garmin, he always returned to British Cycling. It makes him almost cycling's equivalent to the Liverpool footballer Steven Gerrard: a one-club man.
Gerrard has suggested that he would like to return to Liverpool one day to manage the club, and it isn't difficult to imagine that Wiggins might harbour a similar ambition. It would complete a circle that started in 1998.
In the meantime, the British/Sky set-up will continue without him. But it won't seem the same.
Thank you for reading 20 articles this month* Join now for unlimited access
Enjoy your first month for just £1 / $1 / €1
*Read 5 free articles per month without a subscription
Join now for unlimited access
Try first month for just £1 / $1 / €1