British Cycling to return to track roots
Success on the road means BC have struggled to keep their top talent on the track - Academy programme must be more appealing - Smaller, more concentrated academy squad for 2014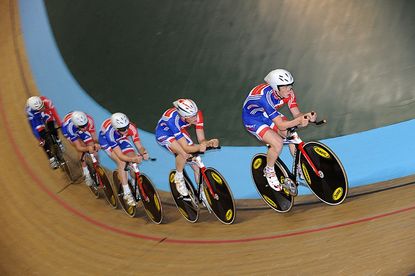 Great Britain's recent success on the road has presented national team managers with a problem: how do they attract the current crop of talented young British riders onto the boards.
"As a kid nowadays, five or six years ago they were looking up to Chris Hoy and everything was geared towards how well everyone was doing on the track," said Keith Lambert, road manager of British Cycling's Olympic Academy Programme.
"All of a sudden we've done so well on the road and that's what they all want to be."
With five Olympic medals on offer per gender (and more at World Championships), as opposed to just two on the road, the track will continue to sit at the core of the national team's programme.
And, with the notable exception of Chris Froome, it was that track-based Academy system that helped launch the careers of the majority of Britain's current male and female road professionals.
Get with the programme
Its list of graduates includes Mark Cavendish, Geraint Thomas, Peter Kennaugh, Lizzie Armitstead and most recently Simon Yates, yet in many respects the Academy programme has become a victim of its own success.
Although Thomas and Kennaugh reaffirmed their track roots when they returned to compete in the velodrome at London 2012, the effectiveness of the track as a springboard to a road career is not always clear.
Last winter, first year U23 riders Tao Geoghegan Hart (Bissell) and Scott Davies (Madison-Genesis) were both turned down a spot on the Academy due to their reluctance to commit to riding the track.
"You've got to make this programme appealing," added Simon Cope, the former women's Academy manager and Wiggle-Honda DS who joined the men's Academy over the winter as track manager. "It's just got to be sold that these successful road riders came through this pathway.
"All they see now is [Peter] Kennaugh winning and Swifty [Ben Swift] winning, and they forget that maybe five years ago or more they were riding track. So it's [about] getting that message back."
Return to its roots
2014 will be a year of rejuvenation at the men's endurance Academy, as it takes on its smallest squad in a number of years. The group of seven U23 riders, down from nine last season, includes four new recruits from the junior ranks. Olympic Development Programme graduates Jacob Ragan, Ollie Wood, Chris Lawless and Germain Burton join second-year Academy riders Jon Dibben and Chris Latham.
While nominally an Academy rider, 20-year-old Owain Doull, who rode the team pursuit in the recent Track World Championships, will spend this season on the road with the AnPost-Chain Reaction team.
"The smaller intake is to make it easier to manage and to work with," explained Lambert. "Then we can bring others in as and when we need them for the road. Essentially, it's a track endurance squad."
The shift in emphasis back to the track marks a move towards the original structure of the Academy when it was founded by Rod Ellingworth, now Team Sky performance manager, in 2004. Riders will race a reduced road calendar, narrowing their focus to UCI Nations Cup races, which culminate in the Tour de l'Avenir in late August.
"I believe there is no better schooling than on the track," said Ellingworth, whose initial Academy intake included Cavendish, Thomas and double Olympic team pursuit gold medallist Ed Clancy.
"The key is following people's dreams," he added. "Ninety-nine per cent of endurance males will want to be road professionals. But there is no reason why, along that pathway, we couldn't get four bloody good years out of them on the track."
"We're starting from scratch again, more or less," added Cope. "There's a new crop of riders coming from the juniors, and we are just going to build back up progressively."
Down the right pathway
As British Cycling's performance pathway manager, Ian Yates has the role of making sure its talented young riders have a clear route that could take them to the top of the sport.
"It's really positive at the minute," Yates said. "Ten years ago we had to try to find cyclists and bring them in to the programme, whereas now with the numbers we've got and the strong coaching and club culture that we've got, I think we really have got a strong situation."
Yates joined BC in July 2013 after working in skeleton bob, taekwondo and youth football, and now works with BC's coaches to reinforce the progression from youth rider through to Olympic medallist. However after recent success on the track and road, he identified a future need for cycling to broaden its appeal and promote some of its less successful disciplines.
"Whether it's road or mountain bike, our goal is to produce those medallists in the end," Yates added. "But early in a rider's development there are shared opportunities.
"I think one of the big challenges is to ensure that the pathway that we have goes right across mountain biking, BMX, track sprinting, track endurance and road," he added. "That's something other sports have done, like sailing, and something I'm keen to push; it's a performance pathway, not just a track pathway."
After a disappointing performance at the Track World Championships, Chris Boardman suggests that Dave Brailsford should concentrate on Sky or
Sir Dave Brailsford declares the squad to be "in good shape for this stage of the Olympic cycle"
Thank you for reading 10 articles this month* Join now for unlimited access
Enjoy your first month for just £1 / $1 / €1
*Read 5 free articles per month without a subscription
Join now for unlimited access
Try first month for just £1 / $1 / €1
Richard Abraham is an award-winning writer, based in New Zealand. He has reported from major sporting events including the Tour de France and Olympic Games, and is also a part-time travel guide who has delivered luxury cycle tours and events across Europe. In 2019 he was awarded Writer of the Year at the PPA Awards.