Chris Boardman: British Cycling team needs a full-time boss
After a disappointing performance at the Track World Championships, Chris Boardman suggests that Dave Brailsford should concentrate on Sky or British squad rather than both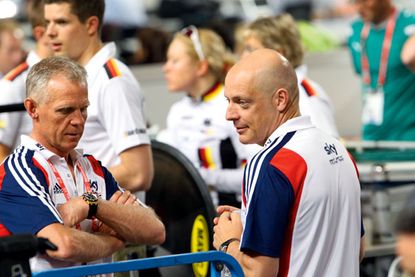 Chris Boardman has said the British Cycling team needs a full-time boss after they returned one of their most disappointing Track World Championship performances since lottery funding started in 1998.
Since the inception of Team Sky in 2009, current BC performance director Dave Brailsford has split his time between Teams GB and Sky, but has increasingly spent more time with the pro team. Brailsford himself said he would review his role after the track championships.
"Dave would clearly be the best full-time boss," said Boardman, who was working with the BBC at the Track Worlds in Cali, Colombia. "But if he's not going to do that it might be better if somebody else comes in and takes the reins."
"He's such a character, if he's still there it's difficult for people to go in and take command, but it needs somebody like him."
Cycling is the second-best funded Olympic sport in the UK, receiving over £30m in funding for the four-year Rio Olympic cycle. Until now Brailsford's division of duty has been accepted due to the success, but this year's dip might raise the question over the part-time management of one of Britain's most important Olympic sports.
Although head coach Shane Sutton backed Brailsford, calling him the "greatest leader in British sport", Boardman, who held one of four senior BC coaching positions pre-2008 before moving on to spearhead the team's equipment, said it's needs to change. "I'm not sure about an overhaul, but it needs a boss."
"It's a physical presence when you're getting ready for the event. When you're here it's done; you need to attend all the dress rehearsals. British Cycling's in a period of change now. [It's] still got some fantastic ingredients, some great athletes, [and] some great people working for them. So the potential is all still there. [They] just might need somebody to pull it all together."
"They're not a million miles away, but they're behind the curve in every male event. They're just missing an edge. If you were concerned about anything, it's the fact they're finding it difficult to pinpoint, and haven't seen it coming in to this event."
"It's not like the rest of the world has gone massively faster, it's the British team that's slowed down, so you know the potential is there. When you win things, you get lots of distractions, the hunger goes a little bit, you get a good kicking, that gives you back your incentive."
Thank you for reading 5 articles this month* Join now for unlimited access
Enjoy your first month for just £1 / $1 / €1
*Read 5 free articles per month without a subscription
Join now for unlimited access
Try first month for just £1 / $1 / €1