BRITISH CYCLING'S ACADEMY TEAM DEBUT IN NATIONS CUP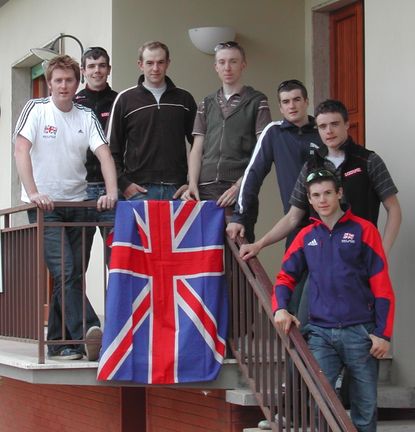 British Cycling's Italian-based Olympic Academy team will be in action in France on Wednesday in the Cote Picardie race, the first event of the UCI's new under-23 Nations Cup series.
Steven Burke, Jonny Bellis, Russell Hampton, Ian Stannard, Ben Swift and Andy Tennant have been training hard in the last two weeks after moving into their house in Quarrata, near Florence in Tuscany.
The race in northern France will be the last race for the team before the tough Giro delle Regioni stage race in Italy (April 25-May 1). After his impressive win in the Milan-Busseto Italian classics on March 24, Ian Stannard will be the team?s protected rider against a quality field of strong national teams.
?All the riders are up for it and are healthy after some good training in the last couple of weeks,? Academy coach and directeur sportif Rod Illingworth said.
?We?re coming up to a key moment in our season and there?s no reason why Ian Stannard can?t get a result in the top ten. The team will be built around him and we?ll decide our final tactics after we?ve seen the details of the course.?
After several weeks in hotels, following their arrival in Italy, the six riders moved into their new house two weeks ago. The house was found by former pro Max Sciandri, and has been completely renovated, with special rooms for equipment and massage.
Second-year riders such as Andy Tennant and Ian Stannard have single rooms while first year riders share a room. All the riders taking turns to cook for the rest of the team, while a broadband connection means the riders can keep in touch with friends and family via the internet.
Andy Tennant has his own website (www.andytennant.co.uk) and regularly updates it with news about the team?s racing, training and life in Italy.
Thank you for reading 20 articles this month* Join now for unlimited access
Enjoy your first month for just £1 / $1 / €1
*Read 5 free articles per month without a subscription
Join now for unlimited access
Try first month for just £1 / $1 / €1