'British roads too dangerous for cyclists' finds BBC survey
BBC publishes results of cycling poll, gauging opinion on range of cycling issues in the UK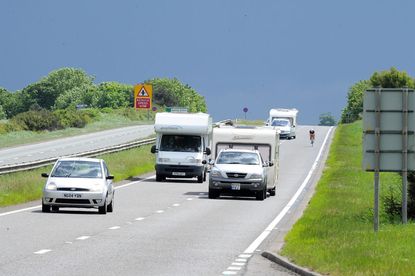 Half of the people who responded to a BBC poll on cycling in Britain said that they thought that the nation's roads were too dangerous for cyclists.
According to the poll results published by the BBC on Tuesday, 52 per cent agree with the statement that it is "too dangerous to cycle on the roads in my local area".
Only 34 per cent thought that their local roads were well designed for cyclists, and over half of people thought that employers didn't do enough to encourage cycling to work.
"It's clear... people don't feel safe when riding their bikes on our roads," Chris Boardman, British Cycling policy advisor, told the BBC. "In order to rectify this we need a clear commitment from government and local authorities to prioritise the safety and needs of cyclists in all future transport schemes."
The poll also asked whether the Tour de France's visit to Britain had thus far encouraged people to get out and cycle more, but it found that only 20 per cent of people felt that it had.
The Headrow to be transformed as part of Tour de France legacy plans
Thank you for reading 20 articles this month* Join now for unlimited access
Enjoy your first month for just £1 / $1 / €1
*Read 5 free articles per month without a subscription
Join now for unlimited access
Try first month for just £1 / $1 / €1