£4million to create cyclists' safe haven in Leeds city centre
The Headrow to be transformed as part of Tour de France legacy plans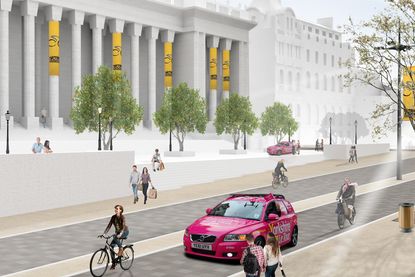 British Cycling has today unveiled a £4 million vision to transform the Headrow, Leeds, the start line for this year's Tour de France, as a suggested legacy of the world's biggest bike race.
BC claims the computer-generated redesign of the Headrow, if made reality, would see a 40% reduction in motor traffic in the city centre street and a trebling of cycling by, among other things, closing the road to private cars, introducing a 20mph speed limit, wider pavements and separate traffic signals for those on bikes.
BC and Leeds City Council, who together produced the designs, are also calling for £10 per head annual spend on cycling as a Tour legacy to kick start the cycling revolution David Cameron called for last year.
Chris Boardman, British Cycling's policy advisor, said: "This would be a true legacy from Britain hosting the Tour de France. Inspiring people to get on bikes is one thing but the fact is that cycling has been designed out of our towns and cities and we urgently need to put this right.
"Millions of people in Britain say they would like to cycle but they are put off due to safety fears. We cannot pretend that this is going to miraculously change. National government need to face up to some hard truths and commit adequate investment. It's important to clarify, we are not asking for more money but for a tiny fraction of the existing provision to be targeted as part of a long term plan to remodel our urban landscapes."
Designs show the current two motor traffic lanes in each direction reduced to one, with wider pavements, trees and a bike bypass at one set of traffic lights. Shared space can be controversial due to the potential for conflict, but Boardman told the Today programme on Radio 4 this morning the reduced traffic speeds and volumes and changing priorities on the street in favour of people on foot and bikes, as in cities like Amsterdam, would improve safety.
Leeds City Council's own Tour legacy vision, titled Leeds: Cycling Starts Here, seeks to use the Tour to enhance spending on cycling in the city, including expanding the city's 82km of cycle routes and the existing £29 million project to connect Leeds and Bradford, which was awarded funding last year by central government.
Part of this vision is developing closer ties with British Cycling, which is increasingly involved in campaigning for better road conditions to get more people on bikes for everyday journeys.
Leader of Leeds City Council, Councillor Keith Wakefield, said: "We are firmly committed to maximising every possible benefit from the city hosting the Tour de France.
"As we outlined in our legacy vision, we want to put cycling at the heart of the future of Leeds, building on our existing relationships with fantastic partners like British Cycling to bring about significant benefits in a range of areas such as health and wellbeing, transport, leisure, the environment and the economy.
"That is our long-term aim to do everything we can to encourage and help as many people as possible to get cycling."
The Headrow is home to many of the city's important civic and cultural buildings, among them Leeds Town Hall, Leeds Central Library, Leeds Art Gallery and the Henry Moor Institute. It is also one of the city's main shopping street, with some of the city's biggest retail buildings. It was widened in the late 1920s and early 1930s to improve traffic flow through the city.
You can watch the video of British Cycling and Leeds' vision:
https://www.youtube.com/watch?v=XTtPuLSEcwc&list=UU7QMT1odZ6QeJPg5GwClUlw
Thank you for reading 10 articles this month* Join now for unlimited access
Enjoy your first month for just £1 / $1 / €1
*Read 5 free articles per month without a subscription
Join now for unlimited access
Try first month for just £1 / $1 / €1