BRITISH STARS AT REVOLUTION THIS SATURDAY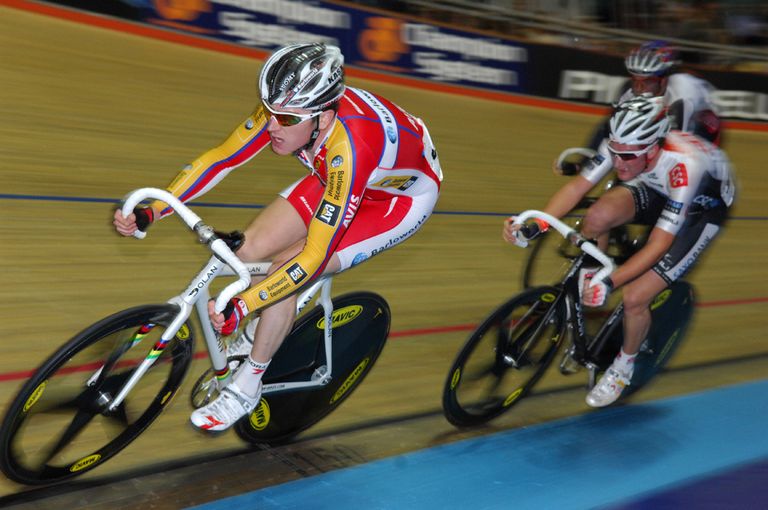 The second Revolution track meet of the current season will welcome another sell out crowd to the Manchester Velodrome on Saturday night (December 6).
The main attraction will be the return to racing for Chris Hoy who will line up against his British team mates as well as international challengers Tuen Mulder, Roberto Chiappa and Itmar Esteban.
Complementing the sprint racing will be a world class endurance field with CSC?s Luke Roberts taking on the cream of British talent including Geraint Thomas, Ed Clancy, Steve Cummings, Chris Newton and Rob Hayles.
One of the highlights to the programme will once again be a head to head between Team Sprint and Team Pursuit. This time with Hoy back on the team, the sprinters will be looking for retribution after defeat at the last Revolution. Over a longer course of 1km and without the flying start, they are determined to triumph in this unique competition.
In the other racing Lizzie Armitstead, Joanna Rowsell, Katie Colclough and Alex Greenfield will be taking on some of the best British women in an action packed programme.
Lizzie?s currently leading the World Cup Scratch and Team Pursuit events, she said: ?I'm really looking forward to racing at revolution it is a fantastic opportunity to ride with some strong girls and get even more experience to take into world cup events.?
Completing the fantastic line up will be Bradley Wiggins. Giving his legs a pre- Christmas rest, the double Gold medallist will be in the Track Centre Expo area from 7-9pm signing copies of his new book, In Pursuit of Glory.
For more information on the event go to www.cyclingrevolution.com
RELATED LINKS
Four cyclists nominated for BBC Sports Personality award
Hoy returns at Revolution
British women win team pursuit in Melbourne
Battle commences for future stars of track
Cycling Weekly's Dummies' Guide to Track Racing - everything you need to know about racing on the track