Bronze for Chris Newton in the points race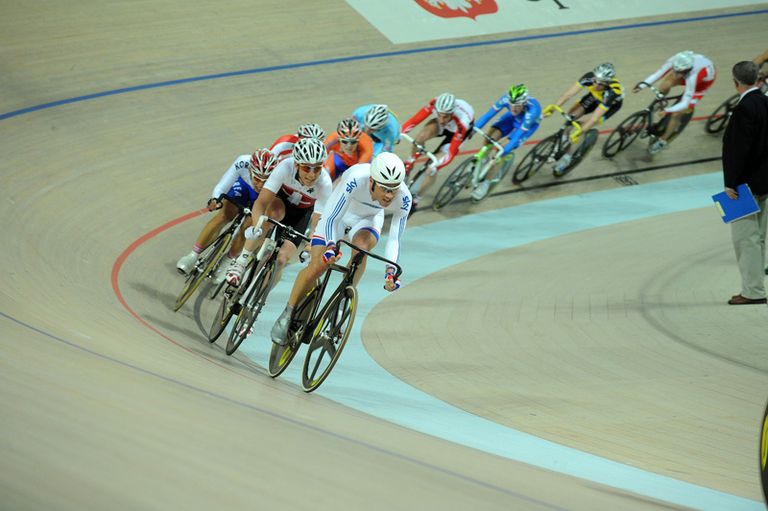 The Hub - Home for all CW's track worlds coverage
Wednesday's live coverage
Australia's Cameron Meyer won the gold medal in a very keenly-contested points race.
It wasn't until the final third of the race that the Australian made his move, going on the attack with Colby Pearce of the USA and scoring heavily to put himself into the picture for a medal.
Britain's Chris Newton was in the thick of things all through the race, and led for a while at the beginning and towards the end of the race.
But at the 14th of 16 sprints, Meyer drew level with him on 19 points and led the race because of better placings in the sprints.
Then Meyer put one hand on the gold medal by winning the penultimate sprint, with Newton missing out on the points. He crossed the line in fifth place, which allowed the Dane Daniel Kreutzfeldt to leap ahead of him as well.
As they wound up for the final sprint, two riders lower down the rankings got away, making victory impossible. Newton did make sure of bronze by opening up his final sprint very early to take third place.
The bronze medal was Newton's second medal in a World Championship points race. He won the title in Copenhagen in 2002.
Newton said he was happy with his ride. "You have to race aggressively, get among the points early on, and that's what I did.
"It isn't just about sprinting once, it's about sprinting time and again and I did that. The thing is, it's a bike race. It's not quantifiable. It's different every time, so you can't stick to a rigid plan.
"I did what I had to do to be contention, and then a move went away and had to react to that."
Newton said that being a British rider did not bring extra attention. "People don't race they jersey, they race the rider. You hear the coaches on the side saying 'Mark Newton, mark Newton,'. That's part of racing and that's because I've been successful in the past."
When two riders attacked towards the end, the chance of overtaking Meyer slipped away from Newton, but he said: "You have to weigh it up. I had the Spanish guy only a couple of points behind, so you don't want to chase hard and then lose the bronze medal as well."
And he said that the goal was to be Britain's points race rider in London in 2012. Newton will be just a month shy of his 41st birthday then, but last year's Olympic champion Joan Llaneras was 40.
"Age isn't a limiting factor, so I just want to keep racing and remain competitive."
Chris Newton heads the field
Cameron Meyer wins the points race
Meyer celebrates with family and friends
2009 UCI TRACK CYCLING WORLD CHAMPIONSHIPS
Follow Cycling Weekly on Twitter>>
RACE REPORTS
The CW Hub: Track World Championships index
Men's team sprint: France beat Britain
Men's Points Race: Newton gets bronze
Women's individual pursuit: Houvenaghel beaten to silver
500m TT: World record for Krupeckaite, bronze for Pendleton
NEWS AND FEATURES
Track worlds day one: steady start for team GB
Why there's no Brit in the individual pursuit
No individual pursuit for Britain at track worlds
No room for complacency in British Cycling: Iain Dyer interviewCavendish in the frame for Scratch race world title bid
2009 Track Cycling World Championships preview
Crampton set to fill Sir Chris Hoy's team sprint spot
2009 World Track Champs GB squad named
Hoy to miss world track champs
Track World Championships: British medal winners
CW's Dummies' Guide to Track Racing
PHOTOS
GB RIDER PROFILES
Men
Jonathan Bellis
Steven Burke
Mark Cavendish
Ed Clancy
Matt Crampton
David Daniell
Ross Edgar
Jason Kenny
Chris Newton
Jamie Staff
Women
Lizzie Armitstead
Wendy Houvenaghel
Victoria Pendleton
Shanaze Reade
Joanna Rowsell
Jessica Varnish
RECENT RESULTS
International track results last season: 2007-2008
International track results this season: 2008-2009
2008 TRACK WORLD CHAMPIONSHIPS LINKS
Full results from the 2008 track worlds
Report: Sunday, day five>>
Report: Saturday, day four>>
Report: Friday, day three>>
Report: Thursday, day two>>
Report: Wednesday, day one>>
EXTERNAL LINKS
Track Cycling World Championships 2009 official website