Cammish turns back the clock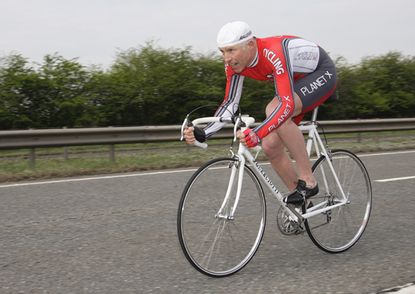 The Planet X ?Old Skool? series kicked off on Good Friday with the City Road Club (Hull) ?10?.
The twelve-race time trial series, brainchild of veteran tester and nine-time British Best All Rounder Ian Cammish, abandons modern aerodynamic equipment in favour of the kind of machines ridden before the days of disc wheels.
?We have had a lot of people enquiring what they can and can?t ride,? explained Cammish, ?so we have said no tri-bars, no discs, no aero helmets: those are the basic requirements and you can go as retro as you want.?
Cammish was struggling to get a bottom bracket to fit his retro Guerciotti frame fitted with vintage Campagnolo components when Cycling Weekly called but pulled it off to record the best ?old skool? time of the day with 21min 38sec.
Cammish also landed the ?best dressed? award but the ?best retro bike? prize went to Welland Valley CC?s Gavin Hinxman.
?It will give us some indication how much faster all the modern technology makes us,? said Cammish. ?I will be riding standard events on proper lo-pro stuff as well during the season.?
Look no further than the event winner for an idea of how much difference the equipment makes. Veteran Wayne Randle (Planet X) stormed round the 10-mile course to record 18min 58sec, an event and course record.
The only problem prospective riders of the ?Old Skool? series may have is having quick enough times to gain entry to the dozen events. Friday?s organiser Geoff Backshall reported a cut off time of 22.27 for his oversubscribed 10-mile race.
?The event is run without special dispensation within the main event,? said Backshall, ?but with it being on a fast course they are fighting hammer and tongs to get onto it. The prizes that Planet X are putting up make it more than worthwhile to give it a go, unless you are obsessed with times ? which, unfortunately, a few are.?
Thank you for reading 20 articles this month* Join now for unlimited access
Enjoy your first month for just £1 / $1 / €1
*Read 5 free articles per month without a subscription
Join now for unlimited access
Try first month for just £1 / $1 / €1