Catch behind the scenes documentary with Cancellara and Trek on Eurosport tonight
The 'Behind the Stripes' documentary will be aired on Tuesday night, offering an insight into one of cycling's biggest teams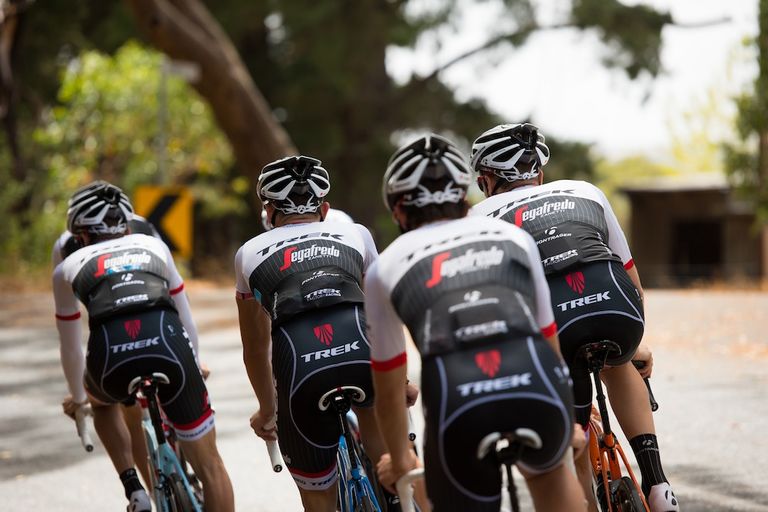 (Image credit: O-NEV/Veeral Patel)
Ever wondered what goes on behind the scenes at one of the WorldTour's biggest teams? Well now's your chance as Eurosport will be showing an all-access documentary with Fabian Cancellara and his Trek-Segafredo team on Tuesday night.
>>> Cancellara's training ride crash caught on camera in mass pile-up at Trek camp (video)
As part of the 'Sports Insiders' series, the 30-minute documentary, entitled 'Behind the Stripes', viewers will travel with the team on their Costa Blanca training camp in December of last year and see how they really make sure they're ready for the long season ahead.
With an insight into team meetings, rider interviews and on-board footage during training all included, it's the last chance for cycling fans to see how three-time Paris-Roubaix winner Cancellara prepares for his season, as prepares to retire at the end of 2016.
"The Sports Insiders episode goes to the very heart of the team," said Eurosport's Senior Vice President, Arnaud Simon, "lifting the lid on the expertise and sacrifice needed to be the best.
"While viewers will be gripped by the fly-on-the-wall access to what are usually closed training camps, they will also be mesmerised by some of the innovative location footage put together by Eurosport's production team."
The documentary will be premiered at 19.30GMT on Tuesday night, with a number of subsequent showings so you don't miss out.
Programme schedule:
Tuesday, February 2, 2016
19:30 - 20:00 GMT Eurosport 1 - Sports Insiders: Behind the Stripes
21:15 - 21:45 GMT Eurosport 2 - Sports Insiders: Behind the Stripes (replay)
Wednesday, February 3, 2016
11:00 - 11:30 GMT Eurosport 1 - Sports Insiders: Behind the Stripes (replay)
Thursday, February 4, 2016
08:00 - 08:30 GMT Eurosport 1 - Sports Insiders: Behind the Stripes (replay)
12:15 - 12:45 GMT Eurosport 2 - Sports Insiders: Behind the Stripes (replay)
22:30 - 22:55 GMT Eurosport 2 - Sports Insiders: Behind the Stripes (replay)