Iconic cycling climbs celebrated with new coffee cup sets
Released just in time for Christmas... these cappuccino and espresso cups and saucers may be a good gift for a cyclist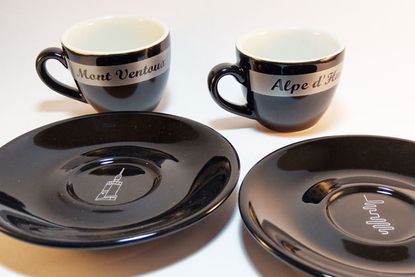 Cycling Souvenirs has added to its already extensive line of bike-related coffee cups and mugs with several new offerings that celebrate famous Tour de France cycling climbs.
>>> Christmas gifts for cyclists
The Mont Ventoux and Alpe d'Huez cup and saucers sets come in two different sizes: larger cappuccino and smaller espresso.
Finished in classy black, silver and white, they are immediately obviously about cycling – there are no images of cyclists, for example – which means their appeal could extend beyond the cycling world.
Once you lift the cups off their saucers, you are greeted with a design inspired by the climb: so, a Ventoux observatory mast and a representation of Alpe d'Huez's famous hairpin bends.
According to Cycling Souvenirs, the cup sets are hand-finished and kiln fired in the UK, and most importantly are dishwasher and microwave safe.
>>> Alpe d'Huez: Classic climbs of the Tour de France
Each espresso set (one cup and saucer) costs £15.95, with the larger cappuccino sets costing £16.95.
Cycling Souvenirs also do a range of cups and mugs featuring retro team logos, world champion stripes, famous races and designs inspired by Grand Tour classification jerseys.
Thank you for reading 20 articles this month* Join now for unlimited access
Enjoy your first month for just £1 / $1 / €1
*Read 5 free articles per month without a subscription
Join now for unlimited access
Try first month for just £1 / $1 / €1