Chris Froome - 'I'm not done yet'
The best Grand Tour rider of his generation, Chris Froome still believes he can contend on the biggest stages despite long-term injury and taking a step down the cycling hierarchy from Ineos to Israel Start-Up Nation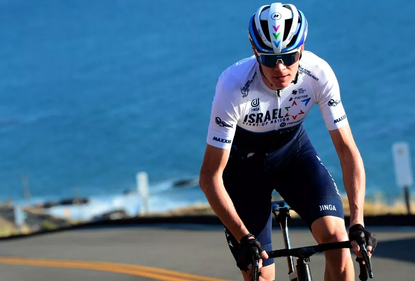 Among all of the qualities that have enabled Chris Froome to stand out as the greatest Grand Tour rider of his generation, arguably the most impressive has been his mental strength and resilience. There was no well-trodden path for a young bike rider from Kenya to ascend to the world's elite.
It required guile, determination, and a pinch of street smarts (Froome impersonated the Kenyan cycling federation president on email to gain a spot at the U23 World Championships in 2006) to create the opportunities that would lead him to sign for Barloworld in 2008.
And to then move to Sky in 2010. Having taken a very unconventional route to the top, he maintained his place there for close to a decade, swatting away numerous rivals as he racked up seven Grand Tour victories. Yet, the British rider now faces his biggest test.
Still recovering from the career-threatening injuries he sustained in a horrific high-speed crash while checking out the time trial course at the 2019 Critérium du Dauphiné, Froome believes he can add a fifth Tour de France title to his palmarès, and achieve this despite turning 36 in May and having swapped the well-proved potency of Ineos, where he spent 11 highly successful seasons, for the potential of Israel Start-Up Nation, a team with a mere two Grand Tour stage wins to its credit.
Listening to Froome speak via Zoom about his hopes and plans with his new team from his pre-season training camp in California, it strikes me that his words are essentially a rehash of what he'd told me last August when he made his return to racing following that crash at the Route d'Occitanie.
He talked then of being on the right trajectory to gain Tour selection, that racing would help return him to his best level. But he never produced that kind of form, which resulted in him sitting out the Tour and, subsequently, riding well off the GC pace at the Vuelta a España.
Combine that with his already high profile move to the relatively untested Israel Start-Up Nation squad, which only entered the WorldTour in 2020, and had little of the infrastructure around their riders that Froome enjoyed at Ineos and it appeared the Froome era was well and truly over.
Read the rest of our interview with Chris Froome in this week's Cycling Weekly magazine, on sale from January 28. If you're not going out you can buy single issues online (opens in new tab) or subscribe for a reduced quarterly rate (opens in new tab) and have every issue delivered to your door.
Thank you for reading 10 articles this month* Join now for unlimited access
Enjoy your first month for just £1 / $1 / €1
*Read 5 free articles per month without a subscription
Join now for unlimited access
Try first month for just £1 / $1 / €1
Peter Cossins has been writing about professional cycling since 1993, with his reporting appearing in numerous publications and websites including Cycling Weekly, Cycle Sport and Procycling - which he edited from 2006 to 2009. Peter is the author of several books on cycling - The Monuments, his history of cycling's five greatest one-day Classic races, was published in 2014, followed in 2015 by Alpe d'Huez, an appraisal of cycling's greatest climb. Yellow Jersey - his celebration of the iconic Tour de France winner's jersey won the 2020 Telegraph Sports Book Awards Cycling Book of the Year Award.