Chris Hoy wins his 10th rainbow jersey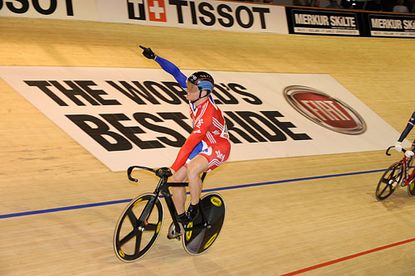 Sir Chris Hoy became the first British rider to win ten World Championship titles on the track when he held off the late surge from Malaysia's Azizulhasni Awang in the Keirin final.
Hoy's first rainbow jersey came in the same Ballerup velodrome in Copenhagen almost eight years ago.
It was Thursday, September 26, 2002 that Hoy beat the legendary Frenchman Arnaud Tournant to win his first world title in the kilometre time trial. The following day, Hoy lined up with Jamie Staff and Craig Maclean to beat the Germans in the team sprint final.
Now Hoy has Tournant's record of 14 world titles in his sights.
Here's how Hoy won his ten rainbow jerseys...
NO. 1 THE KILOMETRE
Copenhagen, September 26, 2002

Shane Kelly of Australia set the fastest time early on. Hoy, riding fifth from last, recorded a 1-01.893 then had to wait to see if it was enough. Tournant was a formidable kilo rider, in his pomp at the time, and he started well. But on the final lap he began to struggle and missed Hoy's time by just a thousandth of a second. If the two riders had been side by side it would have gone to a photo finish, it was that close. Tournant was stunned and skipped the post-race press conference. For Hoy, the quest for a rainbow jersey was over.


NO. 2 TEAM SPRINT

Copenhagen, September 27, 2002

Great Britain topped qualification ahead of the Germans by the blink of an eye. The question was, could they back it up in the final? First they had to beat Poland in the first round, which they did comfortably, to set up a head-to-head against Australia. Staff, Hoy and Maclean were too much for Ryan Bayley, Jobie Dajka and Sean Eadie.



NO. 3 KILOMETRE

Melbourne, May 27, 2004

This was the one that confirmed that Chris Hoy could win the Olympic Games kilometre. Hoy's time of 1-01.599 withstood the challenge of Tournant, Kelly and the German Stefan Nimke.



NO. 4 TEAM SPRINT

Los Angeles, March 24, 2005

Hoy, Jason Queally and Staff were too strong for the Dutch trio of Theo Bos, Teun Mulder and Tim Veldt in the final.



NO. 5 KILOMETRE

Bordeaux, April 14, 2006

Hoy had announced that he would not be continuing with the kilometre in the long-term because of the decision to remove it from the Olympic Games programme for 2008. A 1-01.361 bagged him his third world title at the discipline.



NO. 6 KEIRIN

Palma de Majorca, March 30, 2007

Hoy's took the World Championship Keirin by storm, taking the lead position behind the Derny in all his races and winning the first round, second round and the final with a searing pace that meant no one could come round him.


NO. 7 KILOMETRE

Palma de Majorca, April 1, 2007

Although the kilo had been erased from the Olympics, Hoy persisted with it because he had his eyes on breaking Tournant's world record. Six weeks before going to La Paz in Bolivia he rode a 1-00.999 - close to Hoy's sea level world record of 1-00.711 set at the Athens Olympics. In Bolivia, Tournant's mark remained out of reach.



NO. 8 SPRINT

Manchester, March 28, 2008

The pivotal moment in a pulsating sprint competition came the night before. Hoy had qualified fourth fastest, behind three French riders. In the first round he got past Teun Mulder and then Max Levy, who was relegated for an irregular move. But it was two phenomenal victories over Theo Bos in the quarter-final that almost lifted the roof off Manchester velodrome. The next night, Roberto Chiappa was no match in the semi-final and Hoy then beat Mickael Bourgain 2-0 to become the first male British sprint world champion since Reg Harris in 1954.



NO. 9 KEIRIN

Manchester, March 29, 2008

This was the World Championships before the Beijing Olympics that Great Britain dominated from start to finish. Hoy cruised through in his now trademark style - taking a position at the front and holding it.


NO. 10 KEIRIN

Copenhagen, March 25, 2010

Back where it all began, on the Ballerup track. Hoy had missed the 2009 Worlds after crashing in the Keirin at the Copenhagen World Cup. But if there were any negative thoughts he put them to the back of his mind. In the first round Malaysia's Josiah Ng cut Hoy up as they moved away from the start line, causing the Scotsman to crash. However, Hoy was comfortably through to the final where he went for a long sprint, having been denied first place behind the Derny. He held off a spirited fight from Awang to win Britain's first gold of the championships.


RELATED LINK
Sir Chris Hoy. A photo study by Cycling Weekly's Andy Jones
Sir Chris Hoy: Rider Profile
UCI Track Cycling World Championships 2010: Coverage index
Thank you for reading 10 articles this month* Join now for unlimited access
Enjoy your first month for just £1 / $1 / €1
*Read 5 free articles per month without a subscription
Join now for unlimited access
Try first month for just £1 / $1 / €1
Sports journalist Lionel Birnie has written professionally for Sunday Times, Procycling and of course Cycling Weekly. He is also an author, publisher, and co-founder of The Cycling Podcast. His first experience covering the Tour de France came in 1999, and he has presented The Cycling Podcast with Richard Moore and Daniel Friebe since 2013. He founded Peloton Publishing in 2010 and has ghostwritten and published the autobiography of Sean Kelly, as well as a number of other sports icons.