Chris Newton's prototype Condor Leggero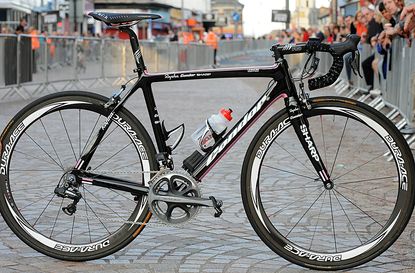 Cycling Weekly caught up with Chris Newton at the Blackpool Nocturne to check out his new prototype Condor Leggero frame, which will be used for the 2011 season.
Newton has been testing out the new frame over the last couple of weeks and put it through its paces at last Saturday's Nocturne.
The frame differs from the current model in having beefed-up top and down tubes which have a more box-like section and are gradually tapered down from the head tube to the seat tube and bottom bracket junctures. It means the head tube area has been made that little bit stiffer and Newton says he can feel a more responsive characteristic to the frame as a result.
The seat tube has lost its sculptured fairing around the rear wheel and been replaced with a straight tube design. A one-piece seat stay wishbone is another change from the 2010 model, which had a cut away above the brake bridge.
There is also an outward bow to the seat stays themselves with a flattening of the 'squared' tubing in side profile as they come to the dropouts. The chain stays have more curvature out from the bottom bracket to the rear dropouts than the current frame design.
Condor's finish to the frame is immaculate and the attention to detail such as the finishing plates to the dropouts' ends gives an air of quality.
Newton's bike is equipped with Shimano's Di2 electronic Dura Ace groupset, Pro Vibe 14cm stem, Pro Vibe seat pin with Fizik Arione Rapha saddle, carbon Look pedals and Dura Ace deep-section carbon wheels with Conti tubs.
Thank you for reading 20 articles this month* Join now for unlimited access
Enjoy your first month for just £1 / $1 / €1
*Read 5 free articles per month without a subscription
Join now for unlimited access
Try first month for just £1 / $1 / €1