CLASSY RANDLE WINS RUDY PROJECT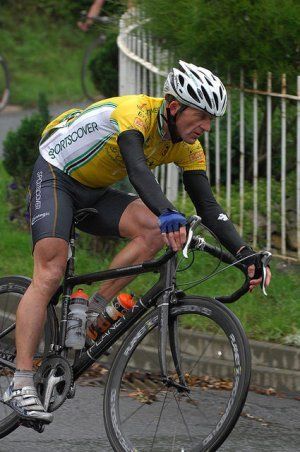 WAYNE Randle won the second round of the RTTC-Rudy Project Time Trial Series in Nottinghamshire by more than a minute, despite suffering a puncture on the final lap and riding the last two miles with a flat front tyre.
The 44-year-old from Barnsley clocked 1-05-33 for the hilly 28-mile course, winning by 1-05 from Pinarello RT espoir Pete Williams after battling through wind, rain, sleet, hail and sunshine.
The later riders - which included most of the favourites for the event - had the worst of the conditions, and there were many punctures throughout the field as the roads became gritty and slippery.
Reigning series champion Richard Prebble telephoned in his apologies from a traffic jam on the M4, but even he would have been hard-pressed to challenge Randle, who averaged 27.762mph over a tough course.
Randle rode for Planet X after changing teams mid-week, while his former Sportscover team-mate Ashley Brown took third, 1-26 off the pace.
See this week?s Cycling Weekly for more on the Rudy Project Series.
RTTC-Rudy Project Series (Round two, Wymeswold, Leicestershire, 28 miles).-
1 Wayne Randle (Planet X) 1-05-33
2 Peter Williams (Pinarello RT) 1-06-38
3 Ashley Brown (Sportscover-Spiuk) 1-06-59
4 Kevin Dawson (GS Strada) 1-07-02
5 Julian Ramsbottom (De Rosa RT) 1-07-10
6 Mark Holton (Pro Bike Kit) 1-07-19
Women.- Michelle Brown (Wyre Forest CRC) 37-41. Juniors.- Richard Handley (Max Gear RT) 34-03. Veterans on actual.- Colin Griffiths (Welland Valley CC) 35-14. Veterans on target time.- Derek Hodgins (Stockport Clarion CC) (39-58) +8-08.
Thank you for reading 10 articles this month* Join now for unlimited access
Enjoy your first month for just £1 / $1 / €1
*Read 5 free articles per month without a subscription
Join now for unlimited access
Try first month for just £1 / $1 / €1
Snowdon Sports is a long-established independent sports news agency, which supplies editorial to a range of media outlets - such as Cycling Weekly - as well as sports governing bodies. Snowdon Sports often covers results at Cycling Time Trials events in the UK and has long been a source of information and imagery to Cycling Weekly.