Consultation starts on new Cambridge cycling bridge
A bridge connecting the Abbey and Chesterton wards in Cambridge will cost over £4m and will provide cyclists an alternative route through the city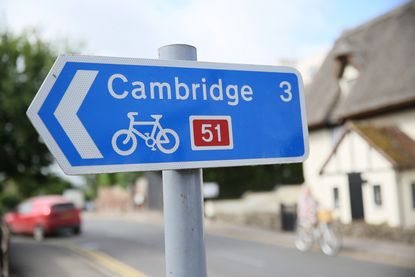 Guildford is not the only place to see millions of pounds spent on new bridges, with Cambridge asking residents for their say on a £4.5m development.
The proposed foot and cycle bridge will cross the River Cam to link the Abbey and Chesterton wards, providing an alternative to the science and business parks, as well as the city's new station.
>>> Cambridge cyclists to face course or fine if they break law
According to the Cambridge News, however, the Friends of Ditton Meadow group oppose the bridge, claiming it is unnecessary and will spoil the area's green space.
Cllr Ian Manning, who represents East Chesterton on the county council, told the News: "We need to make it as easy as possible to get from A to B in Cambridge, without having to rely on private cars: this new bridge will provide a vital link from the Newmarket Road area to the new station, and crucially will lessen the chances of East Chesterton being clogged up with commuter parking.
"This will be a pedestrian and cycle bridge, and is especially vital for less mobile residents, for whom getting to the new station via the Green Dragon bridge could add significantly to their journey to the station."
>>> Cambridge campaigner says "little has changed" for cyclists in last 13 years
Funds for the new bridge will reportedly come from the Department for Transport's Cycle City Ambition, as well as contributions from developers.
MP for Cambridge, Julian Huppert, is the co-chair of the All Party Parliamentary Cycling Group; instrumental in bringing the Government's new Cycling and Walking Investment Strategy to reality.
Thank you for reading 20 articles this month* Join now for unlimited access
Enjoy your first month for just £1 / $1 / €1
*Read 5 free articles per month without a subscription
Join now for unlimited access
Try first month for just £1 / $1 / €1