CONTADOR TO FOCUS ON TOUR IN 2009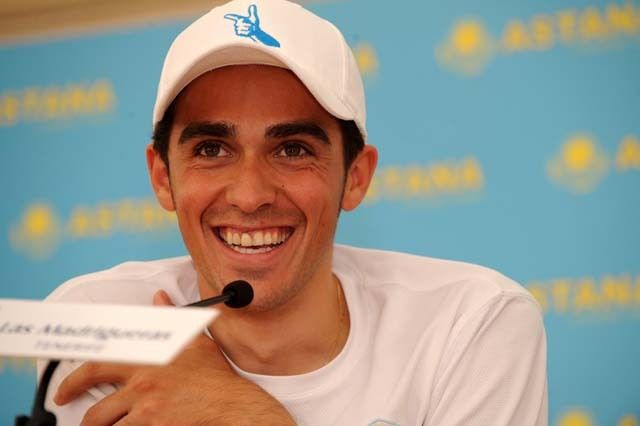 Alberto Contador has confirmed that in 2009 he?ll be going all out for the Tour de France. He also insists that at 26, there?s still room for him to improve as a racer.
In a detailed interview published in the sports daily MARCA, Contador said that in 2009 he will be gunning for the Tour de France.
To want to do well in the Tour is hardly a surprising objective for the world?s top stage racer. But in 2008, following his team?s exclusion from the Tour de France, Contador targeted other races - the Giro, the Vuelta and the Tour of the Basque Country.
He won all of them. But in 2009, Contador will be changing tack yet again. Rather than going all out for races in May and September, it?s back to the Tour de France - which he won in 2007 - for Contador.
?I?m always very aggressive as a racer, but if I only win the Tour this year, I?ll be satisfied with my season,? Contador commented.
Amongst his rivals for this July, he lists the Schleck brothers, Alejandro Valverde (Caisse D?Epargne), Robert Gesink (Rabobank), Carlos Sastre (Cervélo), Cadel Evans (Silence-Lotto) and Denis Menchov (Rabobank). But not, curiously enough, his Astana team-mate Lance Armstrong.
?Rivals don't exist in your own team,? Contador argues.
Asked if he really believed Armstrong would be happy to play the role of domestique in the Tour should Contador or another Astana rider proved stronger, Contador answered ?If he [Armstrong] says that he?s willing to work for me in the Tour, that?s because he?ll do that. I?m going to train for the Tour as hard as I can, and then we?ll see what happens.?
Looking back at his 2008 season, Contador reflected that he would give himself nine and a half out of ten for results, because he didn?t get a medal in the Olympic Games. But, he pointed out, he was building up for the Tour of Spain in August, his big objective of the season - which he won.
?I thought that my 2007 season, in which I won Paris-Nice and the Tour, would be difficult to beat. But in 2008 I did precisely that.?
?I won the Vuelta and the Tour of the Basque Country, which were my big objectives of the year. On top of that, I got the Giro ?for free?.?
?I?ve done won the ?Grand Slam?, taking all three major Tours, and that?s a real achievement for somebody of my age. Only four other riders [Hinault, Anquetil, Gimondi and Merckx] had done that before.?
As for the future, Contador argues that ?logically there should be room for improvement - on all fronts.?
?I know I should be able to time trial better and keep up a higher pace in the mountains for longer so I can drop my rivals. Most cyclists hit their best form when they?re 28 or 29, and I hope that happens to me, too."
Contador's first race in 2009 has yet to be decided. It could be the Tour of the Algarve in Portugal in late February. But if that's still uncertain, Contador has no doubt where he will be in July.
RELATED LINKS
Contador becomes quickest to complete Grand Tour set
Contador wins 2008 Tour of Spain