Cooke's Vision 1 team make the TV news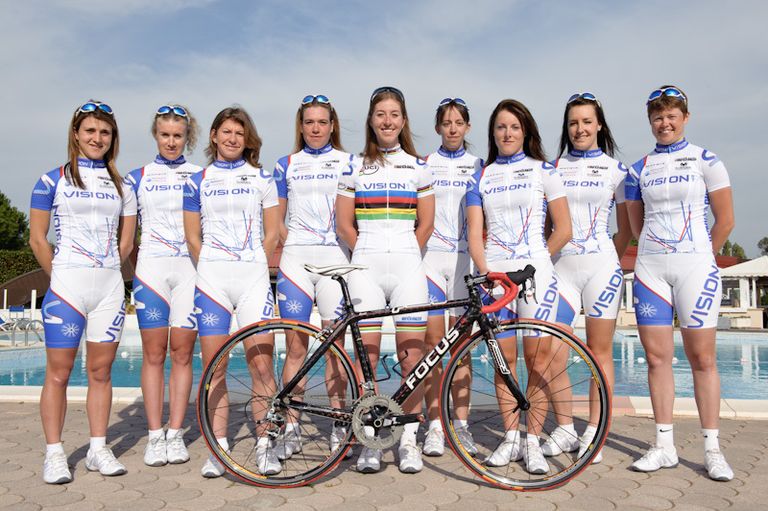 Nicole Cooke's Vision 1 Racing team featured on today's BBC lunchtime news.
The Olympic and world road race champion was interviewed in Tuscany, Italy, as part of a segment on her Vision 1 squad. The team are busy preparing for a busy forthcoming spring campaign in Europe.
"I started the team to create best environment for me to continue to perform and to prepare for London Olympics," Cooke said.
Vision 1 team member Gabby Day was also interviewed. "Having Nicole in the team makes you feel like a stronger rider," Day commented.
New Vision 1 rider Katie Curtis was also at the training camp when the BBC came to visit with its cameras. "It was exciting as the team had lots of media attention at the camp - BBC film crews and Channel 4 interviewed us which was a great experience."
Cardiff-born Curtis also echoed Day's sentiments regarding riding with Cooke. "Being on the team is such a privilege to me and I am so pleased to be a part of it. I have learned a lot from the other girls - especially Nicole."
As well as supporting Cooke's aims for the season, Vision 1 Racing was created to nurture future women's road racing talent.
Vision 1 will field a squad in this weekend's Trofeo Alfredo Binda in Italy - first round of the 2009 women's world cup series. Last year the race was won by Britain's Emma Pooley.
Vision 1 team - photo by Simon Keitch
RELATED LINKS
Nicole Cooke: Rider Profile
Helen Wyman: Rider Profile
A great start for Vision 1 Racing
Vision 1 team taking shape
EXTERNAL LINKS
Vision 1 Racing: www.vision1racing.com
Nicole Cooke: www.nicolecooke.com