Cycling doping documentary 'Icarus' wins Oscar
Film by Bryan Fogel and Dan Cogan started out as a documentary on doping for an amateur cycling event, but ended up exposing Russian state-sponsored doping programme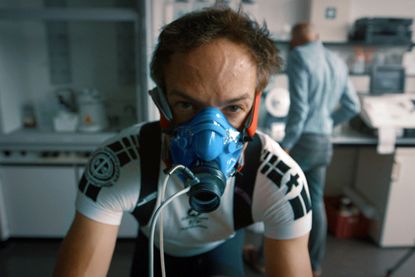 (Image credit: Netflix)
Doping documentary film Icarus won an Oscar for best documentary feature on Sunday night's 90th annual Academy Awards in Hollywood.
The Netflix-backed film by Bryan Fogel and Dan Cogan originally set out to chart the progress of Fogel as he took performance-enhancing substances to prepare for the amateur Haute Route cycling event.
However, as Fogel enlisted the help of Grigory Rodchenkov – the head of Russia's anti-doping – the film soon took a very different and dramatic turn, as Rodchenkov revealed the extent of his country's state-sponsored doping ahead of the 2014 Sochi Winter Olympics.
>>> Cycling documentary which lifted the lid on the Russian doping scandal nominated for Oscar
Fogel then helps Rodchenkov to become a whistleblower and expose the scandal to the wider world via an article published by the New York Times, which results in Rodchenkov having to go into a witness protection programme after receiving threats.
The evidence presented by Rodchenkov and Fogel was instrumental in Russia's ban from the 2018 Winter Olympic Games.
https://www.youtube.com/watch?v=qXoRdSTrR-4
Icarus evidently caught the eye of the Academy Award judges, as it beat documentaries Abacus, Faces Places, Last Men in Aleppo and Strong Island to net the prestigious Oscar.
In his acceptance speech, Fogel said: "We dedicate this award to Dr Grigory Rodchenkov, our fearless whistleblower who now lives in great danger. We hope Icarus is a wake-up call... yes, about Russia, but more than that, about the importance of telling the truth, now more than ever."
Cycling Weekly spoke to Fogel in August. He said that Lance Armstrong's evasion of positive dope tests was the original impetus behind the film.
"Here was this guy confessing he'd used performance-enhancing drugs his entire life," said Fogel. "But it was like how Al Capone was caught — he was never caught for murder or racketeering. They got him on tax evasion.
"And here, after 12 or more years of chasing Lance Armstrong since 1999, with him being the 'most tested athlete on planet earth', this guy had still never failed a drug test."
Thank you for reading 20 articles this month* Join now for unlimited access
Enjoy your first month for just £1 / $1 / €1
*Read 5 free articles per month without a subscription
Join now for unlimited access
Try first month for just £1 / $1 / €1